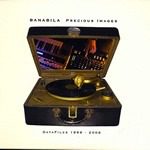 The music of Michel Banabila has been on the top of my personal playlist favourites for years (check my last.fm account if you want the details).
Considering the strength of his versatile output, it really is a shame he doesn't get the recognition he deserves (in terms of sales, that is).
In the past few years, his music has found its way into theatre productions (by well-known Dutch company Orkater, for example) and television documentaries. Some of this work has been compiled earlier on the self-released double-CD 'Hilarious Expedition' and on 'Traces'.
Dutch record label Steamin' Soundworks released a new compilation, fully titled "Precious Images – Datafiles 1999 – 2008". The two CD's are hand-picked and remastered by Michel Banabila himself and show an interesting duality in his work.
The first CD contains music that was released earlier (as Voiznoiz 1/2/3, Spherics 1/2) and mainly focusses on the electronic side of his past work (ignoring some of the great ethnic-jazz-world music he has created).
It's a good introduction to his earlier work for those that did not know it until now.
But the real surprise is on the the second CD, which contains all new work ('new' as in 'unreleased on CD'). This is the music that was written for various theatre and television productions. It emphasizes Banabila's cinematic strength. Some of it brings to mind the lighthearted 'Amélie' soundtrack (by Yann Tiersen), but some of the other tracks are much darker, sometimes even quite frightening. There's a wealth of emotions that share one common factor: Michel Banabila's vision.
Banabila often seeks companionship with musicians sharing his vision, and since they may come from all corners of the world this gives the music its unique 'global' feel.
One of these musicians is dutch jazz-trumpeteer Eric Vloeimans (with whom Banabila released the Edison-awarded VoizNoiz III).
Listen to the track presented here (called 'The Holy Mountain'), with Banabila skillfully creating the background for Eric Vloeimans' trumpet (in Jon Hassell-mode).
You may hear why I'm hooked to Banabila's music for over twenty-five years now.

Michel Banabila – Holy Mountain