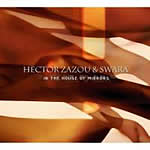 When you listen to this album you hear quiet (Indian) Music – tambur, oud, violin, slide guitar, flute – with an occasionally added non-indian touch (like the trumpet of Nils Petter Molvaer, or (REM's) Bill Rieflin's percussion).
But when you listen closely you will hear all kinds of things are happening behind this music.
Fragments and splinters bounce around like light in a house of mirrors (hence the title, of course).
The way Zazou adds these electronic accents does not distract attention from the music, it merely enhances its nature.
Zazou's presence on this record is quite unobtrusive and modest, but also adds a new depth to it. The production is very respectful to the original (classical indian) musical tradition.
Early September this year, Hector Zazou died at 60.
This posthumous release is a beautiful monument for a man for whom musical borders simply did not exist.
Zazou's ouvre (he recorded 30+ albums since 1976) is a versatile collection of adventurous and often uncompromising music.
May he rest as peaceful as this album sounds.

Hector Zazou – Swara