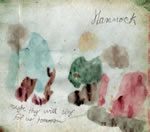 The 'making of' of this album is a nice story to tell:
Hammock (Marc Byrd and Andrew Thompson) released three full albums (not counting 'The Sleepover Sessions') since 2005.
Most of these filled with quiet, guitar-driven 'post-rock', with some crossover to the ambient realm.
If that description sounds a bit like Sigur Rós – so does some of their music.
In fact, Hammock were invited to perform live on occasion of an artwork exhibition of Riceboy Sleeps (= Jonsi Birgisson of Sigur Rós, and Alex Somers of Parachutes).
Since all earlier Hammock recordings were created in a studio setting, it was a challenge to re-define Hammock's music for live performance – especially one as intimate as this.
Byrd and Thompson wisely decided to strip down their music to its bare essentials, and the result is captured on 'Maybe They Will Sing For Us Tomorrow'.
This new album may prove to be their best album yet. Reminiscing of Sigur Rós (duh..), Robin Guthrie, Frippertronics, and Stars of the Lid. It's a warm bath of reverb, guitars and intimate arrangements.
A hammock may be the preferred place to listen to this music, but any other comfortable place will do too!