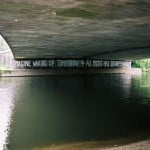 The 17 is an interesting concept created by Bill Drummond (hence the ambient link – remember KLF's Chillout album?).
Though the composition seems to be quite new, the method seems to refer to the sound practices of Pauline Oliveros.
The scores represented on the 17 website seem to use the same compositional method as I found in her book "Deep Listening – A Composer's Sound Practice".
Two examples from Oliveros' book:
Scanning – Hearing (1995)
A group assembles to scan the soundscapes by listening.When someone feels the impulse to know what others are hearing, a signal such as standing up or raising a hand is made. The group members share what they are hearing at that moment.
New Sonic Meditation (1977)
Over a specified time have a randomized cue (or a cue synched with a slowly recurring bio-rhythm) and meditators respond with sound on cue.
Pauline Oliveros: Deep Listening, A Composer's Sound Practice
iUniverse, 2005
ISBN 0-595-34365-1
While we're on the subject, here's a similar "score" I wrote myself.
Honour thy mistakes  (*)
(*) title is from Brian Eno's Oblique Stategies ("Honour thy mistakes as hidden intentions")
Select a small score, or a few bars of your favourite composition.
Start playing this, repeating the score as if it's an endless loop.
Ensure that, in every new loop, you also repeat every mistake you made while playing it, as if the mistake was a part of the original score.
Be sure to repeat every wrong note, every hesitation, as exactly as possible.
Repeat this – welcoming every new mistake as a new variation of the composition.
The performance ends when you played the latest variation 15 times without creating any (new) mistakes.
(An assistant may count the loops and signal the end of the performance).

Any recorded performance of this piece is very welcome, of course!