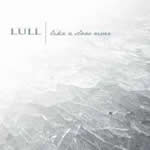 It is hard to imagine that there's a direct link between Napalm Death and extreme 'isolationist' ambient. But there is, and ex-Napalm Death drummer Mick (MJ) Harris is the linking pin.
As Scorn he has created post-industrial dub (working with Bill Laswell, among others), and as Lull he has createst some of the deepest, abstract ambient imaginable.
"Like a Slow River" – the well-named new Lull CD – is released on Glacialmovements, which strongly associates this music with shifting desolate plains of ice (as do the beautiful coverphotos).
But listening to the music also evokes associations with dark, slowly moving clouds indicating extreme heavy weather coming.
The best you can do is lie down and surrender…
The music on the 5 tracks (one hour total) resembles some of the best work of Thomas Köner. "Like a slow river" should not be missed by those of you interested in this kind of dark, desolate sound.