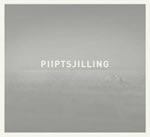 Just mentioning Rutger "Machinefabriek" Zuydervelt's releases could fill a blog on its own. In the high quantity of releases, he's able to maintain a very high quality standard, making it hard to pinpoint highlights in the continuous stream of new releases.
But there's no doubt 'Piiptsjilling' belongs in the 'Best of Machinefabriek' list!
Piiptsjilling, by the way, is the name of a bird:Wintertaling, or Teal (Anas Crecca), in the Frysk language spoken in Friesland, northern Netherlands.
Rutger has never been afraid to experiment and to push his boundaries.
This particular release combines a musical landscape with seven west Frysian poems by Jan Kleefstra.
Mariska Baars (also known as Soccer Committee, and performing with Rutger on various occasions) joins in on guitar, and their combination with Romke Kleefstra (guitar) and of course Jan Kleefstra's voice reciting the poems, results in a thrilling, breathtaking atmosphere.
The musical sound is basically very organic. There are electronics involved but it's mostly supportive, even when the guitar sounds dissolve into quiet drones.
Since only Frysians will understand Frysk, the poems are translated in Dutch as well as in English. But even when you do not understand a single word, the feeling is clear.
Piiptsjilling deserves to be heard by a wide audience, in and outside of Friesland (or Holland, for that matter).
Interesting fact:
this CD is released by Onomatopee ('onomatopeia' – the word describing it's own sound). So probably piiptsjilling is the sound this little teal-bird makes. But since I live in a city and probably could not tell a teal from a pigeon, can someone else possibly confirm this?
Piiptsjilling can be ordered from www.machinefabriek.nu, or through boomkat, as well as through some more specialized record stores.
Maybe even some bookstores (to be ordered with ISBN #: 978-90-78454-16-8).
Please support these artists in any way you can.