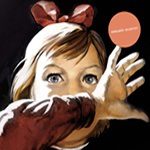 The Bersarin Quartett is a bit hard to classify. If a subgenre called 'lounge ambient' (not to be shortcutted to 'lambient', please) existed, the Bersarin Quartett would be one of the first to fit in. Or maybe even define it.
The Bersarin Quartett is not a quartet at all, as you might've expected: it's just "Thomas". Thomas "Bersarin's" music can best be described floating somewhere between Biosphere's 'Shenzou' and Cinematic Orchestra without vocals.
'Cinematic' this sure is: string orchestra samples are used to full effect. It's a widescreen soundtrack to non-existent films.
And it's full of mixed emotions….
The album cover shows a young frightened girl seemingly averting a brutal assault. This image is used to full effect on Bersarin Quartett's myspace page: it takes some time before you realize you have to scroll down to find the standard page parts. Most of the music on this album is considerably less frightening, by the way.
(Note: the page layout has changed since the time of writing; PvC)
This hidden gem may sadly never reach your local record shop, since it's released on a very small record label (it's Lidar's second release).
But it's very worth haunting..I'm sure it will haunt you too.