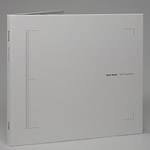 100 Fragments is a re-release of Ikeda's 1995 debut. Originally released on his own CCI recordings label, this album inspired the Raster-Noton founders, who proudly present this rerelease on their own label.
There are two sides to this album, or maybe even three…
The first 10 minutes confront with a hectic cut-up of about the 1000 fragments that named the album. Heavy sub-tones and high frequencies that cut into your brain may effectively scare all your visitors away from your house. But then the complete calm sets in.
5 Zones and Luxus 1-3 take up main part (45 minutes) of this album. Ikeda may be known for his almost mathematical electronics, but these tracks sound very organic. 5 Zones sounds as if you're drifting in the deep ocean in the complete dark.
The concluding piece Luxus 1-3 has a choir/string section (reminding of some of the later work by Biosphere).
Although beautiful in it's own right, this particular piece really begs for a performance by a 'real' string section .
Bang on a Can, maybe? They also did a great job reworking Brian Eno's "Music for Airports", so why not put this one on the repertoire?
Sounding very fresh, this music is not outdated in any way. A re-release worth checking out!