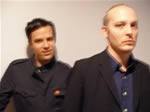 One of the most anticipated concerts of this year coming up friday, 21: Stars of the Lid will be performing in Utrecht (my hometown).
There's an extensive European tour proceeding, so quite a few people may have already seen the show by now.
One of these recent shows was audience-recorded (a.k.a. 'bootlegged') and can be found here.(update 24-01-08: the link is dead now, because the concert has been removed from archive.org)
It's the Dublin Show performed at Whelan's on november, 23. And it sounds pretty good for an audience recording.
It may spoil the surprise of the upcoming concert for you (in that case: don't listen yet), but on the other hand it's also worth checking out what you may expect from a Stars of the Lid performance. Worth collecting!