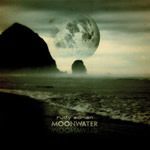 I had not heard Rudy Adrian's name before, although this New Zealand's musician seems to be around for a while. But when a single name pops up more than a few times in various ambient circles, you know it's time to check out the release people are talking about.
I'm glad I did, because "Moonwater" feels like coming home. Adrian uses one single synth (Yamaha SY77) to create the sort of sounds that Brian Eno did when originally defining ambient music in the seventies – especially the early records he made together with Harold Budd.
Sometimes the resemblance even gets a bit too close: one might argue that Moonwater lacks some 'originality'. But then again: I find myself repeatingly playing it, just for the comfortable atmosphere it creates.