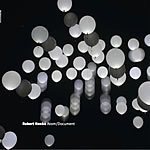 Robert Henke's previous works (Layering Buddha / Signal to Noise / Piercing Music / Floating Point – not to mention Monolake's music) almost makes "Atom/Document" a blind buy.
However, the music on this new album is quite different from the previous releases. So be prepared!
The album opens with […flicker] spreading a massively deep drone. But the drone only returns in [convex], and in the closing track [_exit]…and there's quite a lot of beating, pounding and clanking inbetween.