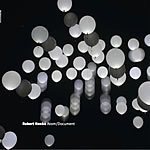 Robert Henke's previous works (Layering Buddha / Signal to Noise / Piercing Music / Floating Point – not to mention Monolake's music) almost makes "Atom/Document" a blind buy.
However, the music on this new album is quite different from the previous releases. So be prepared!
The album opens with […flicker] spreading a massively deep drone. But the drone only returns in [convex], and in the closing track [_exit]…and there's quite a lot of beating, pounding and clanking inbetween.
The origin of this percussive sounds lie in the performance it is part of: Atom, created by Christopher Bauder.
A performance like this must be quite an unforgettable experience: imagine a matrix of 8×8 helium balloons, illuminated from within with LED's and creating patterns directly related to the musical signals.
That's a strict conceptual rule: each percussive element triggers a LED. (There are also floating elements, without any direct connections to the leds).
The computer controlled height and light of the helium balloons, in strict relation to the sounds you hear, will undoubtedly be very very impressive.
(There's a video on the robert henke website to give an impression. Never mind the sound of that, just look).
But that's exactly why this should have been a (surround sound) DVD! Isolating the sound from this performance leaves only one third of the experience!
Is the music alone interesting enough? That, of course, is a matter of taste. There's some seemingly generative high pitched piano motives on [shift_register] and [first_contact], dubby techno hiss rhythms on [metropol] and [diagonal]….
Interesting enough, but in the end the deep electronic drone of [_flicker] and [_exit] work best for me.
My advice: listen to the full release before you decide to buy. And keep your fingers crossed for an Atom performance in your neighbourhood.