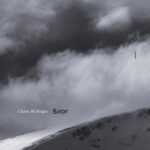 CLAIRE M. SINGER – SAOR
Saor (pronounced Sieur, as in Monsieur, and meaning 'free' in Scottish Gaelic) is the first of a triptych of releases inspired by the peaks of Claire M Singer's homeland (she grew up in Aberdeenshire). For this album she wanted to capture the dramatic visions of the landscape she grew up in, but at the same time it's an exploration to get to know the organ more intimately.

Singer started playing the cello when she was six but got hooked on the sound of the church organ after a commission to write an organ piece in 2006.
Currently, she is the music director of the 1877 'Father' Henry Willis organ at the world-famous Union Chapel, but this is not the only organ she plays on this album. Much of it was written and recorded in her home country Aberdeenshire, and the title track is recorded in Amsterdam's Orgelpark (where the album release party will be held, with Claire performing on five organs simultaneously!).
"I realised by controlling how much wind enters the pipe affects the tuning and you can create rich harmonic textures and complex overtones that create ever-shifting melodic and rhythmic patterns. It was incredible to produce a sound which came from the same sonic palette I was working with in the studio but was completely acoustic".

Don't expect 'traditional' music for church organ, obviously: Singer approaches the instrument as a sound source with almost limitless possibilities. And on the 70 minutes of this album featuring nine tracks of varying lengths (the title track almost 25 minutes, the shortest only 17 seconds) these possibilities are demonstrated convincingly.
However, the organ is not the only instrument used. Claire also plays mellotron, harmonium, cello, and electronics, and the sound palette is completed by Brian Shook (trumpet on Cairn Toul), Yann Ghiro (clarinet), Andy Saunders (French horn), and Patsy Reid (strings on Càrn).
---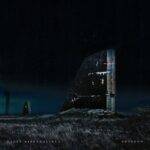 GALYA BISENGALIEVA – POLYGON
With her album releases until now (Aralkum + remixes, The Ice Dive OST) and her impressive live performances, Kazakh/British composer Galya Bisengalieva has set herself a high standard. She is a violinist with experience in contemporary classical music (member of the London Contemporary Orchestra), but easily transcends any genre merging classical roots with folk, ambient, and electronic music. She has worked with Steve Reich, Suzanne Cianni, Laurie Spiegel, Terry Riley, Pauline Oliveros, Hildur Gudnadottir, Sarah Davachi, and Mica Levi – which should be enough references to check out her solo work!
Polygon is her third solo album. Again, the violin is her main instrument, but overall the music is more experimental than contemporary classical, and involves a lot of electronics. Just listen to the title track to get an idea.

Polygon refers to the Semipalatinsk Test Site on the steppe in northeast Kazakhstan – the primary testing venue for the Soviet Union's nuclear weapons.
'For the [Kazakh] inhabitants, the 465 nuclear tests conducted during its existence had dire consequences on an ancient landscape that supported traditional pasturelands with little regard for their effect on the local people or the environment, leading to devastating long-term impacts.'
A dark and dreary theme unmistakably echoed in the music. Chilling, scary, but at the same time fascinating in its haunting beauty. Anyone who remembers (and enjoyed) Hildur Gudnadottir's soundtrack for Chernobyl should check out this album. But that is of course because the underlying themes are also connected. Apart from that, this album also demonstrates what can be achieved with uncompromising out-of-the-box thinking.