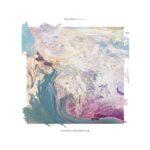 Quiet Places not only (partly) describes the music on this album, but it is also the name of the trio formed by Dennis White, Charlie May and Dave Gardner.

After releasing Volume 1 in 2020, Volume 2 expands upon 'their deep and suitably hypnotic long-form compositions', once again captured in four untitled tracks on a 2LP vinyl release (the digital download also features a bonus track titled 'The Empty View'). The vinyl edition is available in marbled green, black or yellow vinyl. I must admit that I am quite late in mentioning this album (it was released on A Strangely Isolated Place on July 7), so I'm happy to say that at the time of writing, there are still physical copies available.
The music on these four tracks, best played in one session, is an associative set of 'moments of melody amongst the wide landscape of abstract sounds and samples'. With 'associative', I mean that the music takes some unexpected turns, opening surprising views of different sonic landscapes without becoming chaotic.
It's a risky comparison due to the legendary status of that album, but listening to this Quiet Places album somewhat reminded me of KLF's Chillout Album. But perhaps it's better to decide for yourself.
---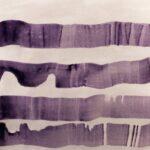 Flocks is the debut album of the duo with the same name, consisting of Werner Durand and Uli Hohmann. The duo may be new, but the artists are seasoned musician presenting a music that goes beyond any genre boundary.
Werner Durand has played and performed with Amelia Cuni, Urban Sax, Arnold Dreyblatt, Ellen Fullman, Catherine Christer Hennix, Hilary Jeffery, and also released quite some solo work. He studied saxophone as well as Indian/Persian flutes, and is also 'a highly reputated protagonist in the drone scene'.
If some of the wind instruments he plays on this album sound a bit unfamiliar to you, you are right: he plays wind instruments he invented himself: ur-sax, buzz-clarinets, PVC neys and horns. But also regular instruments like tenor-sax, blown kalimba, mouth harp and drones.
Uli Hohmann also performs on self-invented instruments: plucked, bowed & hammered string instruments in this case, apart from creating rhythms with frame drums like kanjira (South Indian frame drum) or riq (Arabian frame drum). Hohmann followed his interest in music from Asia, India and Africa, and studied with Ghanaian master drummer Mustapha Tettey Addy and others.
In Flocks, the combination of these more or less unfamiliar wind instrument sounds, the steady yet complex rhythms, and the electronics creates music that feels traditional ánd experimental.
Mix and merge Jon Hassel's Fourth World music with a healthy dose of Krautrock and you may get an idea.