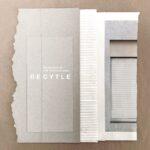 MACHINEFABRIEK WITH MONIKA BUGAJNY – RECYTLE
It's been a while since I last recommended work from Machinefabriek/Rutger Zuydervelt (well, to be exact, it was January this year, but before that, you'll have to go way back to 2021). But that has nothing to do with his output: in the meantime Rutger has probably released more music than most readers own. One of the constants in his output is that it is always surprising – while at the same time, his discography shows remarkable coherence.
One of the many short pieces on '+' featured clarinetist Monika Bugajny, and that 'concoction' (as he calls it) was the start of a fruitful collaboration resulting in this new album.
Recytle (Recital / Recycle, get it?) is more subdued and less exuberant than some of Machinefabriek's earlier output, but this is exactly what this music needs.
Monika Bugajny gets all the space to excel with her clarinet reinterpretations of classical music, while Zuydervelt takes a modest but effective role in manipulating the material and adding 'moody and woozy' electronics.
Music inspired by Poulenc, Brahms, Copland, Messiaen, Stravinsky, Debussy, Arnold, Horovitz .. few would have expected to hear these names on a Machinefabriek release (Rutger himself perhaps least of all).
But it works wonders.
It may have a classical atmosphere, but it definitely is contemporary music. It also may be one of Rutger's most accessible albums, so I strongly advise to check it out, whether you are a Machinefabriek adept or not.
---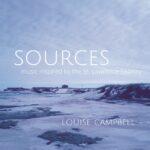 LOUISE CAMPBELL – SOURCES
Louise Campbell is an artist from Montréal, who feels so closely connected to the St. Lawrence Seaway that she dedicated her debut album to it. Her primary instrument is the clarinet, and she pairs this instrument with intricate electronics to create 'rich yet spacious sonic environments, attentively layering and shaping the
instrument's characteristic pure tone through the aid of surreptitious processing, [folding] delicate microtonal sighs, futtering textures, and distant echoes into a single evocative image.'.
This album's four pieces can be enjoyed without further context, but it is still nice to know that this music is part of a larger multimedia setting: there will be an interactive outdoor installation in Montréal, which will include a system of small modular speakers as well as the bult-in speakers on participants phones. Apart from that, Campbell also devised a sense-walk, 'guiding listeners to interface with their surroundings in new ways.'
But of course, and unfortunately, that is only interesting for those near Montréal. The rest of us will have to do with the music on this album. Which proves to be satisfying enough!