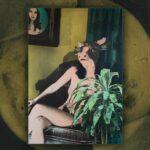 I'm not ashamed to admit that I had never heard of 400 Lonely Things before, even if they have been releasing albums since 2003. In my defense: most of them were released on rather obscure labels; only in 2020 there appeared a split-release cassette with Fossil Aerosol Mining Project on Helen Scarsdale Agency. Their latest, Mother Moon is released on Cold Spring, and it will probably gain some more attention – especially since it is produced by none other than William Basinski.

400 Lonely Things are Craig Varian and Jonathan McCall. For this album, 400 Lonely Things found inspiration in the Banning Mill, a 'decaying "mansion" and haven for artists, freaks, and misfits in the backwoods of the American Deep South in the 1970s-1990s'.
Mother Moon is described as a 'dark ambient, sample-based séance', and the 79 minutes of 'melancholic instrumentals with weathered sampling at its core' indeed feels like a mysterious séance. At times, it is frightening like a weird nightmarish dream – but it's the kind of frightening you don't want to stop because it is so damn fascinating.
The background of Banning Mill and the way it inspired this music is explained in detail in the accompanying 44-page book, illustrated with weird David Lynch-like art. The book is included in the download, but can also be obtained separately as a soft-cover book. And that is not all: a 'peep show shirt' is also available.
As said, Mother Moon is produced by William Basinski. Even though the music here is none like Basinski's own stretched-out ambient dronescapes, his influence can clearly be heard in the melancholic sound of deterioration.

I'm sure that Banning Mill must have been a fascinating and inspiring place to be. But at the same time, listening to Mother Moon and browsing through the book feels like remembering something you would have preferred to leave forgotten.
And that is meant as a true compliment. After all, the motto of 400 Lonely Thing is: 'Dark New Age for the New Dark Age.'
---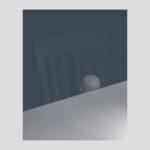 PUSH FOR NIGHT + JON MUELLER – LAPSED GASPS
Push For Night is the name of the duo formed by James Elliott and Oliver Chapoy. Don't worry if you haven't heard about them before: until now they only released a few tracks on compilation albums and one self-titled release on the Tapeworm label in 2021.
Some years ago, around 2007, Elliott met Jon Mueller, a drummer/percussionist who 'focuses on the dialog between sound and the situation it's presented in, often bypassing standard approaches to percussion'. Mueller worked with artists like Rhys Chatham, James Plotkin, Asmus Tietchens, Z'EV, etc… so this may give an idea about his work. Only many years later, Elliott rediscovered Mueller's album Gong/Snare and suddenly realized its potential.

Everything you hear on Lapsed Gasps is based on this original album, after 'embellishing and reshaping that material via extensive processing, augmented with our own electronics, guitar, field recordings, and additional percussion'. Jon Mueller added some new material himself, created with his drum kit and his lawn sprinkler (!).
The result is an otherworldly sound trip that will have you on the edge of your seat. 'Bypassing standard approaches to percussion' is a kind of understatement here. The 'thick, liminal record, rich with the dread, absurdity, and delirium of the past several years' is clearly not easy listening material, but it will trigger your imagination in unexpected ways.