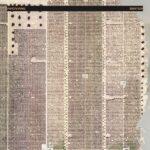 I'm afraid I'm lagging behind a bit more than I should: this Laaps release was released in January because it is related to the Winter season. It is already followed by the next release in the series that's gonna end at #100 by Wil Bolton. (More on that album in another post). Consequently, the physical editions are of course already sold out. But there is still the digital download of course, so I'd still mention this album – after all, this music is enjoyable in every season, not just in Winter.
Arovane (Uwe Zahn from Germany) will probably be a familiar artist among the readers of this blog: he has produced numerous electronic albums since 1999. After a nine-year gap from 2004 until 2013, his output suddenly exploded (Discogs mentions 7 titles in 2015 alone) and from then steadily continued.
Arovane has a distinct personal musical style: a carefully crafted sound design that is not just simple 'lay back and relax'-ambient but requires active listening to all its details. Many carefully chosen fragments and loops are put together to create coherent-sounding pieces. This process of creating is reflected in this album's title:
Sintering refers to a process 'of compacting and forming a solid mass of material by heat or pressure without melting. The material produced by sintering is called sinter'.
---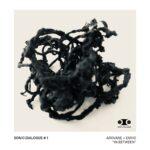 Even older (released November 2022), and equally sold out, is Sonic Dialogue #1, In Between – a split release by Arovane and EMHO.
EMHO is French musician and designer Emmanuel Hourquet who, like Uwe Zahn, has been actively creating music since early 2000 – though he only released his debut album One in 2000.
Sonic Dialogue is (or will be) a new label publishing 'ongoing back and forth sonic conversation between artists'. The process the artists used is explained on a set of cards included with the cassettes. I am unsure if a copy of these cards is also included with the download version, but you can get a good impression from this image on the Bandcamp page. Both artists used samples from the other to create the final tracks, resulting in seven tracks on each side of the cassette: Arovane on side A and EMHO on side B.
This way, the music is linked yet different: generally speaking, the B-side (EMHO) is somewhat more ambient-oriented and quieter compared to the A-side with the typical Arovane sound sculptures.
---
Having listened to the split recording (above) was a good introduction to further check out the latest release by Emmanuel (EMHO) Hourquet called Archipels Fragiles Vol. 1. This was a more recent release, so finally here's one that isn't sold out (yet): there are still some cassettes available from the limited edition of 25.
The title and cover may refer to the fragile archipelagos that are rapidly disappearing due to climate change, but the overall theme of this mini-album (with 22 minutes it is somewhat shorter than his contributions to the split with Arovane) is remembrance and loss.

Emho created the sonic images with 'samples and curated recordings from remembered landscapes', reimagining them 'through echos, degradation, slowed them down, zoomed into the details', ultimately creating 'a new sonic vocabulary'.