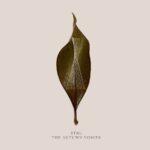 STBL is Jorge Ortiz de Pinedo, a sound artist from Madrid, Spain. STBL is 'his most accessible alias' – he also works under the name noi, creating music for installations, video, art, and theatre. There's not much further information: Discogs mentions three previous releases, two of which self-released. So, at least for me, The Autumn Voices may be the first introduction to his work.
And that definitely is a nice surprise! The Autumn Voices has a nice bright sound – ambient soundscapes mixed with some glitchy ingredients, 'a careful variety of deep percussion and organic atmospheres, […] navigating between crazy soundscapes and ghostly noises'.
All sounds on this six-track album are created by Pinedo, with the addition of soundscapes and vocals of (voice) artist Petra Kapš (ORpoesis) on Green Water, Autumn Voices.
Inspired by nature and silence, STBL presents a welcome diversion from the usual sounds and strategies often used in ambient music. It's always good to hear a fresh, personal sound!
---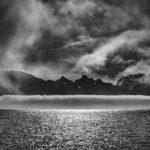 French electroacoustic composer and sound and visual artist Lionel Marchetti visited Australia in 2019 to work with the Decibel chamber ensemble – a 'six-piece new music ensemble focusing on the integration of acoustic and electronic instruments in chamber music performance'.
Marchetti came with a "partition concrète' that was part score, part ensemble member, part fixed media. The music is coaxed from the ensemble, without score, but with discussions, listening, and experiments'. After the first rehearsals and performances, Marchetti adapts the work integrating the recordings with synthesizers, tape and electronic manipulations.
The recording of Inland Lake was an unusual setup: the Decibel ensemble was split in half between the east and west coast of Australia, while Marchetti himself participated from France. This unusual recording process required some advanced software 'to reduce the perception of latency and improve the sound quality 'down the line' for the performers'.
The 36-minute Inland Lake demonstrates a perfect integration of the acoustic ensemble and electronics indeed. It is a slow-evolving piece where all sonic ingredients play an equally important role, together creating an enigmatic, unworldly atmosphere.
Also included is the much shorter (2'26") piece La Patience – Marchetti's first notated composition. Each member recorded their part in their own home, and the result is mixed by Marchetti.
Distance is no longer an issue, not even with chamber ensemble recording.