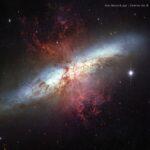 As the cover and the title already show us, we're heading for deep space territory here. This is the second album in a series 'dedicated to the magnificence of the Universe and the figure of one of its biggest explorers: Carl Sagan'.
Ran Kirlian (German ambient musician currently living in Spain) teams up again with Jaja (also German, also known as Jana Rockstroh, which may or may not be her real name) to present spacey improvisations on their synthesizers (with an occasional field recording).
All tracks were written and recorded in late-night sessions somewhere between 2012 and 2019, and specifically tuned to 432,0 Hz, 432,2 Hz, and 440,0 Hz.
I have no idea what the exact effect of these tunings are, but I can confirm that this is extremely relaxing classic ambient space music that is perfect to float away on. To outer or to inner space – whatever you prefer.
---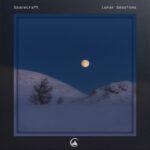 With Lunar Sessions, Spacecraft (alias of Mumbai-based producer Rishi Bhatia) stays a bit closer to earth. But musically it explores the same territory: spacey, synth-based ambient soundscapes that are extremely relaxing and immersive.
'A perfect backdrop for settling down for deep relaxation.'
Lunar Sessions, released as digital-only (no physical edition), is one of Spacecraft's relatively few full-album releases: most titles in his (? I assume) catalog are single, self-released tracks. Among them are various collaborations: Lunar Sessions features Perry Frank on guitar on Sirius (Guitar Edit), and Lauge (Denmark's Henrik Rolsted Laugesen) on Sea Of Serenity.