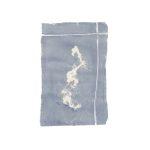 The Handstitched label may 'prefer to remain a mystery', but their 64 releases dó show where there musical preferences lie. Their latest release is a collaboration between Bill Seaman and Stephen Spera called Architectures Of Light. It was released on April 22, so the 'handstitched' physical edition of 58 is already sold out, but there's still the digital download version worth listening.
Bill Seaman has released various collaborations and solo works in the past, sometimes under his own name but also as The Humble Bee or The Seaman And The Tattered Sail (with Craig Tattersall). His work is very 'sculptural', assembling and processing material from all kinds of sources. Stephen Spera has released earlier work on various boutique labels such as Parvoart, Tessellate, Editions Vaché, etcetera, using 'everything from broken cassette players to Adobe Logic' to create his sound.
Together, their tracks are like collages, built from many different fragments, using found sound, vocal samples, and degraded/fluctuating tape loops.
The album consists of 14 tracks, over 73 minutes of adventurous soundscapes that hold the listener's attention from beginning to the end. They were created in the way many collaborations currently are: "sending each other libraries of potential ideas, then building up layers of sounds, adding to each other's work as time progressed. Multiple iterations created by each artist on the album formed the audible backbone and it was added-to, and/or broken-down to form alternative viewpoints, resulting in moments of slowly-formed movements which evolve without escaping the focus of the audience's attention."
To complete the album, both artists also created a video for two tracks: Heraclitus And The River (Stephen Spera) and Tswana Dreaming (Bill Seaman)
---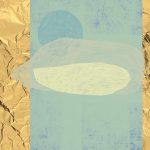 As The Night Comes Softly Down is the follow-up to 2021's Your Voice In Pieces, which was released on Slowcraft Records. This time it is released on the Canadian Polar Seas Recordings.

Landtitles is the alias of Grant Gard, from British Columbia. He creates his music with 'synthesizers, acoustic sources, field recordings, room tones, tape manipulations & DSP explorations'.
There is not much more background information that comes with this album, so you'll have to do with the music itself.
The overall sound of this 7-track album is open, bright, and associative – like fresh morning dew. I guess it is reflecting the location it was recorded: Victoria BC (Coast Salish territory of the Lekwungen
and W̱SÁNEĆ nations).