As you may know, Ambientblog has been quiet for a while because I had to recover from an operation. But now is the time to slowly start it up again! And there is no better way to get back online than with a new 'Ambientblog release' on Bandcamp, where you can download it for free (just like the three previous releases!). Feel free to check out!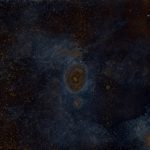 ROBERT KROOS – 4 SONIC MEDITATIONS
Following up on his 2018 Brainwaveset, Robert Kroos now offers 4 Sonic Meditations: 48 minutes of immersive soundscapes, perfect for Deep Listening!
Apart from creating music himself, Robert Kroos is a sound designer for many multimedia projects and performances, but he can also be found DJ-ing and presenting radio shows for the illustrious local WORM radio. He has always had a deep love for all kinds of experimental forms of electronic music – ánd for the deepest of meditative ambient drones.
In the late 90s, he encountered 'brainwave music' and binaural beats. Binaural beats are an auditory illusion that is perceived when two different pure-tone sine waves (each of them lower than 1500 Hz with less than a 40 Hz difference between them) are presented to a listener, one tone to each ear. The brain is able to pick up these 'beats' and depending on the frequency your brainwave activity can be altered towards states of, for example, focus, relaxation, and deep sleep.

Binaural beats can be created with special software, but Kroos prefers to create them with the help of modular synths.
"Combining this technique with my other fascinations such as sine waves, overtones, and microtonality, I am searching for ways to use the binaural beats in a compositional process more than as a therapeutic tool."
The compositional process combined with the meditative aspect is what Kroos is looking for:
"I can experience sound as a three-dimensional space in which I can rest my mind. Music for meditation has no beginning, middle, or end – only expressing the passing of time."
4 Sonic Meditations demonstrates where this can lead to: four immersive and meditative soundscapes that will help you lose track of time.

The album can be downloaded for free from the Ambientblog Bandcamp page.
(cover image from August Strindberg's Celestographs)