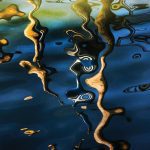 Many ambient music pieces incorporate field recordings, in their original form or more or less manipulated, to enhance the atmosphere of the piece. For Fake Creek, Kate Carr does the exact opposite: she creates a natural atmosphere without using any field recording at all!

The 18-minute piece aptly named Fake Creek is her attempt "to sound like an underwater field recording of a creek, emulating the snap of shrimp, the grunting of fish, and the mysterious rustles and groans I so often have enjoyed listening to underwater".
To achieve that, she uses all kinds of materials (and two instruments): "a tub of water, a straw, nails, beads, bird horns, a whisk, steel wool, a small branch, rocks, a hollow log, a small drum and a zither."
The result is an amazing soundscape, especially when realizing this is a live recording from performances she did in Cafe Oto and 100 Years Gallery in 2021.
It must have been quite a joy to watch her working with her material on stage creating this 'underwater soundscape':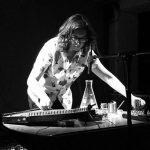 Unfortunately, there is no video of the performance available, so we'll have to do with the recording. Which is fascinating enough in itself.
---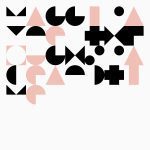 Even though she is not specifically featured in the documentary, Maggi Payne can be credited as one of the groundbreaking pioneers honored Sisters With Transistors. Her first recording dates back to 1977, she worked with many respected artists such as Robert Ashley and David Behrman. Her (extensive) electroacoustic works are featured on labels such as Lovely Music, Asphodel, Innova, Aquirre, and many others.
Through Space And Time is included as the 95th title in the Longform Editions series, and it sounds exactly as the title suggests.
"The sounds are choreographed in an expanded three-dimensional space beyond boundaries, with no walls, ceilings, or floors to constrain them."
This suggests that, for maximum immersiveness, Through Space And Time can best be enjoyed listening on (good) speakers instead of headphones (though that works very well also).
With this piece, Maggi Payne captures "images of vast landscapes and the intimate detail of nature. For her, this could be anywhere from a desert to the solar system, and encompass any aspect of wind, rain, sunlight and night."
For me personally, it sounds more like a journey to outer space – or time-travel – than to a desert or other earthly environment. But that may of course be different for each listener. Just go wherever it takes you.