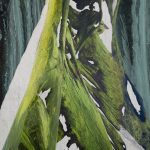 The artist name 't Geruis is a Dutch word meaning the noise, or, maybe more fitting, the murmur. Some of the track titles on Slow Dance On Moss Beds are either in Dutch or in French, so it's safe to assume that 't Geruis is a Belgian act. Behind its name is a somewhat anonymous Daniel.
Slow Dance is his second album for Ryan Keane's Lost Tribe Sound label, preceded in 2021 with Various Thoughts And Places. It is released as the fifth title in the Salt And Gravity subscription series. (This series is limited to max 50 subscribers – but don't worry: each title is also available separately).
Preceding these two releases, the anonymous 't Geruis (self-)released three previous albums and two single tracks that can still be found on his/their Bandcamp page.
't Geruis presents a very personal unique sound. It may be described as lo-fi, but that does not do justice to the subtle complexities involved. Yes, the background hiss and noise is part of the 'mossy' sonic architecture, a hazy overall veil. It covers a unique instrumentation that feels organic but at the same time mysteriously unknown.
But perhaps most striking are the melodies that are uncovered from beneath the moss beds. Deceptively simple sometimes, but effective. Once you hear them you'll probably hum them all day – just listen to Iets Kostbaars (Something Valuable) for example.
"There are very many found melodies in these pieces, a gift from trees, wind, machines and people. A fluttering piece of music we could easily miss. We just need to catch it."
The hum, hiss, and distortion here act like it's an instrument in itself. It is as if this music was uncovered from age-old dusty suitcases, a previously hidden treasure from another world.
---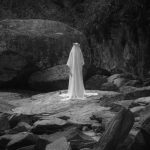 Réka Csiszér, for her first solo album using the alias VÍZ (meaning water), is an artist and composer from Hungary. You may (or perhaps may not) know her from her rather impressive body of work in different groups, collaborations, or solo. Recently she performed on the track Qalaq 6 on Jerusalem In My Heart's album Qalaq – alongside other performers like Moor Mother, Lucrecia Dalt, and Tim Hecker. This is of course only to mention a few of the more familiar names – but perhaps I should add that she is also a member of The Pussywarmers (which I personally hadn't heard about before)

Her – often conceptual – work blends many experimental styles, creating "audio-visual works where music and cinematography intersect". Her background as a master of arts in (jazz/voice) music performance, as well as experience in studying the violoncello, helps her to create what she wants.

With Veils, she presents "an elegiac body horror soundtrack in seven stages, dealing with themes of duality, unreality, the corporeal, language, self & identity, nature, and the pursuit of ancestral provenance".
One look at the cover and you'll get a feeling of what that means. And knowing that Réka Csiszér comes from Transsylvania may further spark your imagination.
Veils is a dark, spooky, and mysterious album, touching on themes that are almost forgotten – "a remote requiem for ancestral origins".

"A piece of work for the earth and the ether. For existence and artificiality. For the inevitable dawn of decay. For forgiveness. For new beginnings. And for the cycle that never ends."