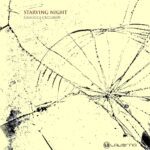 Laverna.net is an Italian netlabel active since 2004, and Starving Night is the 88th release on the label. In the original tradition of the classic netlabels, it is available as a free download.
Gianluca Ceccarini is a founding member of the Sarab Collective, a group of artists combining photography, video art, graphic design, publishing – and also sounds. Graduated in Anthropology, working in 'demo-ethno-anthropological research, with a particular interest in the issues of Landscape Anthropology, Body and Ethnomusicology", he also is a guitarist experimenting with electroacoustic music "produced with home-made instruments in my lutherie lab."
His passion for (self-built) ethnic string instruments can only be heard indirectly, because Starving Night is a collection of electroacoustic compositions.
"Each piece is the result of a dilated ambient sound always poised between nature and sound, between silence and white noise."
The ten different tracks each have their own atmosphere, built from fragments and samples that are manipulated almost beyond recognition. Triggering the imagination of the listener to observe his surrounding in a different way.

Detached from one reality, connected to another.
---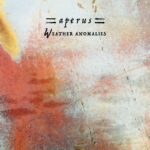 The physical (CD) edition of Weather Anomalies, the latest album by Aperus, is beautifully packed in a 4.5×6″ sleeve and comes with eight randomly chosen photos, and liner notes printed on a heavy card. That may be something you miss when buying the digital download, but even without its physical counterpart the music stands strong enough to enjoy.

Aperus is the alias of Brian McWilliams, an electronic musician and photographer living in the high desert of Northern Mexico. I guess the weather conditions can be harsh there, but in August of 2020 that was even more than usual:
"A lightning strike set the mountains near Santa Fe on fire for twenty-eight days, leaving the smell of smoke hanging in the air just outside our door. With the forces of nature weighing on my mind, I decided to make an environmental album as a way to process what was happening around us."

Combining field recordings from that time "with current technology" (synths, samplers, processed guitar, shortwave radio, tapes, loops, and effects) and some contributions by Karla K. McWilliams (flute), Geoscience (modular Synth), and Ivan Block (guitar), Aperus mixed everything live through an analog mixer.
"Going against my usual impulses, I decided not to over-analyze the material found here."

The result is indeed "live and direct". The harsh weather conditions can almost be felt and most certainly be heard – adding the sonic effects make these soundscapes as intimidating as they are fascinating.
The title track is the centerpiece of the album with its 16-minute playing time, most of the other tracks are much shorter in length – but definitely not in impact. The (nine) tracks are mixed without gaps, so the full album can best be enjoyed in one uninterrupted session.
---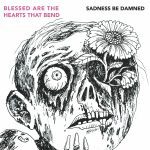 BLESSED ARE THE HEARTS THAT BEND – SADNESS BE DAMNED
"Sadness Be Damned"' – no doubt that's a title that will appeal to many in this time of many crises. However, Luke Seomore claims "it is not a COVID-album", even though the basic tracks were written "when I had to isolate with COVID in a hotel room on the edge of a desert".
Not a 'COVID-album' as such, whatever that may be, but an album intended as "an antidote to loneliness. It tries to elevate or battle against those feelings through the atmosphere and the flow of the songs."
Sadness Be Damned will be released on February 28, on CD and as a digital download