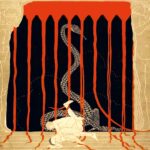 The collaboration by Danish composer Tobias R. Kirstein and American artist John Duncan originated in a dream Kirstein had on May 31st, 2019 (the day Roky Erickson from 13th Floor Elevators died, though I am not sure about the relation of this to the music):

"I dreamt that John Duncan kept repeating the words YOU ARE SAFE entangled with sine waves. So I instantly shot him a message asking if it was too weird to do exactly that. He replied: "not too weird"."
That answer could perhaps have been expected somehow: reading John Duncan's bio shows that things hardly ever get 'too weird' for him to explore. The two worked together on the idea, and so You Are Safe became the representation of Kirstein's dream: 22 minutes of slowly evolving sine wave drones, with the occasional "you are safe" spoken by John Duncan.

This definitely evokes a sense of security – which is then completely undone by the second composition Come to Me. It is built around the same basic idea – spoken fragments over a synth drone – but with the opposite effect. The sine waves are harsh instead of fluid, and the spoken 'Come to me' (complemented by 'while you can') is not exactly reassuring, to say the least. These two tracks relate to each other like heaven relates to hell.
Two expressions of the same compositional technique, with opposite emotional effects.
For your peace of mind, it's my advice to listen to this album in reverse order: start with Come To Me, and end with You Are Safe. That way, you'll end up feeling safer.
---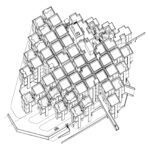 MATTHIJS KOUW & PHIL MAGUIRE – ISOMETRY
For Isometry, Matthijs Kouw and Phil Maguire found their inspiration in the structuralist architecture of Herman Hertzberger – more specifically in his design for Centraal Beheer in Apeldoorn, as can be seen in the cover images. The architect himself approved of their use of his design for this 2CD album presenting four long-form tracks "channeling the architectural movement of structuralism into minimalist electronic music".
"Kouw and Maguire took the building as inspiration for their album, viewing it as a material manifestation of their pieces."
It's up to the listener to relate the sound of these pieces to the architectural image.
In their own words, Kouw and Maguire "invite the listener to explore the fractal properties of large-scale structures, and to wander within apparent stases to discover ever so slight variations, movements, and developments. Deceivingly simple forms patiently build structures that shape the experience of temporality."
This description is most certainly applicable to the building's architecture as well as to the music that is presented in these two hours. Only after dedicated ('deep') listening, the patterns emerge and reveal the subtle details that, together, create the overall image.
---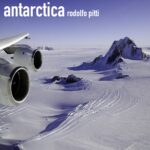 In the nine tracks (73 minutes) of Antarctica, Rodolfo Pitti (from Xalapa, Mexico) paints a landscape of "coldness and desolation, but also bright and not lacking in beauty", reflecting it with "cold and frigid ambiences, mysterious and ethereal, yet with lush and melodic tones".
A perfect mid-winter release that can of course be best enjoyed from the warm comfort of your home – especially when you watch this accompanying video:
I don't know much about Rodolfo Pitti, and his Pittipedia does not reveal much about himself or his work. But his Bandcamp page reveals quite a lot of interesting drone-based soundscapes – most of them consisting of one single track. Such as the Alchemy series, for example, which seems perfectly fit to be collected into one single album release.

But I'm digressing here: to get acquainted with Rodolfo Pitti's sound we can best focus on Antarctica and enjoy the rich immersive (and 'refreshing') sounds it offers.