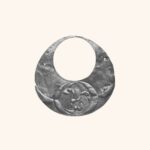 What to expect from a band/artist name like The Penitential Station, with a release on a label called Other Forms Of Consecrated Life, describing their releases as "Auditory excavations. Eremitic music. Pareidolia."?
I literally had no idea.

But describing The Universal as "further auditory excavations of the masses of Giovanni Pierluigi da Palestrina (1525-1594)" immediately had my undivided attention. Palestrina, after all, is the composer of the most heavenly polyphonic choral music ever written – even appealing to an agnostic atheist like myself.

"The interleaving of polyphonic voices explores German mystic Eckhart von Hochheim's pantheistic notion of a 'Universal Soul': 'All spirit (whether in so-called creature or Creator) is substantially one and the same. It cannot be divided; it can have no distinctive operations.'"
Of the two tracks, each around 20 minutes in length, the first, Escaping Consciousness, remains closest to the polyphonic choral sound. Into Essence dives deeper into the subconsciousness, slowing down the vocals, slowly receding the choir to the background while adding instrumental pads that slowly take over.

Basinski meets Palestrina – I guess that is simply the best way to describe the result.
A "balm for the soul" indeed!
---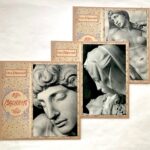 The Time Released Sound label celebrates its 100th release with Lina Filipovich's Magnificat. This is worthy of extra congratulations for more than one reason: not only because it takes a lot of perseverance for a small label to get to 100 releases, but also because TRS always makes a lot of extra effort in releasing stunning hand-made special editions, as well as 'standard' (limited vinyl in this particular case) editions, and of course the digital counterpart.
So this landmark release must be an extra special one.
For her debut album Magnificat, Paris-based Belarusian composer, and sound artist Lina Filipovich creates sound collages from heavily treated fragments and samples of classical choir music (in particular from Sergei Rachmaninov's 'All-Night Vigil' (from 1915, praised as "the greatest musical achievement of the Russian Orthodox Church") with thunderous old-school synths referring to the earliest electronic experiments in the 50s – or an early Doctor Who soundtrack if you prefer.
It is a somewhat disruptive, but equally fascinating sonic experience.
"Prepare to be lifted on high and smashed against the gates of heaven!"
The Deluxe Limited edition (description in link) is limited to 60 copies; the Standard vinyl edition is limited to 100. And then there is the digital version which is virtually unlimited of course. There is no CD version.