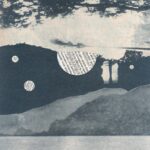 CARTRIDGE GRAIN – SATTWA
For their 'sound research' (as they call it), the Italian duo Cartridge Grain (Roberto Ficosecco and Emanuele Specchia) juxtaposes the 'analog section' (using the pins of two turntables on different material: in particular, plastic, paper, aluminium, wood, to create sounds) with the 'digital section' (using concrete samples elaborated through algorithms of granular synthesis).
The result of these improvisational sessions is far more subtle than you might imagine based on the description of the origins of the sound – which demonstrates the craftsmanship of these two artists.

The sonic space that Cartridge Grain creates is not unlike the sound of slowed-down (and virtually beatless) Basic Channel. There's a beautiful balance between lo-fi noises, hiss and rumble and subtle production.

Balancing all these different characteristics Cartridge Grain creates a serene, peaceful, balanced sonic environment. And well-titles too: the Sanskrit "mode of existence" Sattva symbolizes "the quality of balance, harmony, purity, serenity."
--- I have literally no idea who is behind the name Esmez. There is no information found online, other than the accompanying notes on Bandcamp. So I must assume that Drifting is his/her/their self-released debut. With the current amount of releases, such an album risks drowning in anonimity. This would be a shame because it definitely deserves to be heard.

On the four pieces called Drifting, each around 15 minutes, Esmez leans heavily on the generative musical practice (and theory) developed by Brian Eno. The music sounds like that on his (generative ambient) albums too: it even shares the same 'lightness' (as opposed to darker moods).
The four tracks have subtle differences: "the first part will use a Lydian mode, hypermajor, the second one will use an Ionian mode, major, and so on, approaching ever closer the minor mode without reaching it".

"Music which is not standing out, and creates within the listener 'a space to think', according to the terms of Brian Eno."
Or, to use another Eno quote: "Music that is as interesting as it is ignorable."
---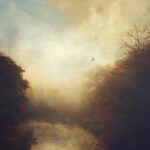 Stray Theories is the alias of Australian (but now New Zealand-based) composer Micah Templeton-Wolfe. This Light is his fourth full album under this name, and the second for the N5md label – the label "releasing emotive styles of contemporary music".
With his slow-paced arrangements, the music of Stray Theories – and especially this album – perfectly fits the labels mission.

With some help of Chuck Mauk (drums on Be The Light and Atlas Dreams), John Willers (alto horn on These Mountains) and Destiny Templeton-Wolfe (vocals on Empath), Micah Templeton-Wolfe creates widescreen ambience with added touches of modern-classical and post-rock.

"It's cinematic yet tranquil, with loads of melancholia – each work cascading to emotive heights."