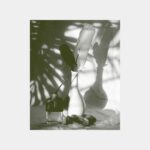 For someone who has been active in the experimental sound art scene since the mid-1970s, working on sound installations, musical compositions for dance, theatre, and visual arts, etc., etc., Zane Trow has a remarkable low recorded output. There's an album on Room40 from 2004 called For Those Who Hear Actual Voices, a digital-only album The Transient Implosion on the same label in 2014, and mention on a 7″-single from 1973 (!). That's it. Releasing his work is (or was) clearly not his main focus.
Why Echoes? (also on Room40 of course) demonstrates that he is an experienced sound artist capable of creating captivating soundscapes. The opening track, The Numbers Station, grabs your attention with an indecipherable background (from the number stations), complete with an enigmatic piano loop. The four following tracks are called Part VII, VIII, X, and VI respectively (although it remains unclear what exactly they are parts of) have a different kind of sound than The Numbers Station, but are equally haunting. Closing the album is Phase Shift, a Basinsky-style decaying piano-loop composition.
As a full-time artistic director of festivals and art organizations, Zane Trow was used to working with sound but never had the time to fully explore the basic system of delays and echoes. Giving up arts program management in March 2020 opened up the possibility to fully explore the possibilities of these systems.
"If my time in collaboration with other artists, and live art forms, taught me anything it was that the slow fading sound fragments in echoes of particular tones and pitches, in combination, create a space in the air for an uncertain stillness."

There is, indeed, as much 'stillness' as there is 'uncertainty'. Fans of David Lynch-like atmospheres will definitely approve of this!
---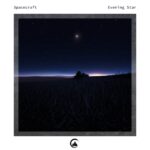 Mumbai-based producer Rishi Bhatia aka Spacecraft is 'inspired by the heavens' – as can be seen in all titles of his previous releases: Mars (album, 2019), Celestial Solitude, Meteors, UFO, Arriving On Planet MKJ-B (singles & EP's). His latest album Evening Star continues to reach out to outer space with nine tracks of deep droning soundscapes.

Drone music is often presented in long-form tracks, but Bhatia manages to present engaging drone tracks in much shorter time-frames: around 4-5 minutes. The longest track on Evening Star is the closing track Stillness with its 10'41" length. But even then there's also an album edit of this track no longer than 4 minutes.
Deep within the immersive and floating drone pads, there are suggestions of hidden musical themes that struggle to emerge – but fail. Maybe they're not even there, only present in the mind of the listener who's trying to interpret the slow evolving sounds.
It is exactly what makes this album such a pleasure to listen to: the tracks are long enough to indulge in, but not long enough to get bored.
Of course, it's obvious to say that this music feels like floating in space – but only very few people know how that feels so we can only guess. Based on these sounds it must feel rather nice.