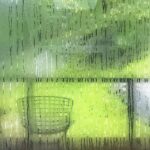 Until now, I was not aware of the music of "occasional musician" (and elementary school teacher) Ned Milligan. But perhaps I should have been, because he has been releasing music since 2016: on his own label Florabelle Records, as well as on Facture and Fluid Audio. Especially the last two label names should've rung a bell…
Enter Outside is a very refreshing album – and not only because its opener Lullabye Of The Eaves starts with the sound of gentle (summer?) rain.
Milligan's main (and almost exclusive) instruments are chimes and cassette tape. Apart from that, the 'outside' (field recordings) literally 'enters' – "not as a mere backdrop, but as a collaborator".
The opening rain, like the album cover image, suggests an abundance of rain. But still Milligan manages to conjure a sonic image of an environment that must be a refreshing pleasure to live in.
"Each track offers a gentle immersion into his environment and gradually encourages it to become yours as well, while the gentle racket of the world hums along".
---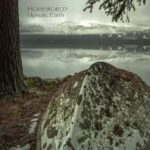 Hipnotic Earth (aka Cosmos Rennert) is a project "birthed from a deep need for quiet, slow-motion music", with a mission of "creating and delivering soothing musical soundscapes to millions of over-stimulated eyes and ears for deep restoration".
Of that, there's never enough in a hectic world like ours, so it's good to know that there will be quite a few of this released this year: Homeworld, released by Shimmering Moods, a self-released drone album Sleeping Whales (below), a release on Past Inside The Present, and another one on Dronarivm later this year
So brace yourself for this wave of Hipnotic Earth's immersive ambient to calm your overstimulated senses.
Homeworld is a collection of nine tracks varying in length from three to thirteen minutes. They are edited from "long-form live improvisations that go on for 20-30 minutes – manipulated, polished, carved and sculpted until they become a truer version of themselves that was not there at conception".
Three of the tracks reflect some sad personal experiences in early 2020: Ode to Scotty, Sadness Too Deep and Float Gently Dear Mother, but overall the music breathes acquiescence with its combination of synths, piano, and of course the natural sounds to which Rennert is addicted: "So cliché and yet it melts my soul good".
---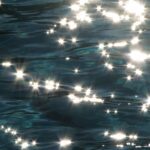 Sleeping Whales is a set of two long-form drones: the first (Repose) in a 30-minute version is the main body of this album, while Suchness completes it with a much shorter runtime (12 minutes).
The last track has previously appeared on the 2020 compilation NeoTantra XI, but Cosmos 'Hipnotic Earth' Rennert was not satisfied with the mastering on that album so re-mastered it himself for this release.
Repose (Longplay Remix) is the combined, extended, and remixed version of the track that previously appeared on earlier albums in two different parts.
Sleeping Whales is offered as a Name Your Price download, so it may be a good way to introduce yourself to the sound of Hipnotic Earth.