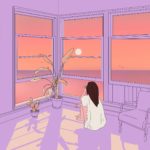 The strikingly colored cover image immediately draws your attention and perfectly captures what this album aims to be: "a wistful and romantic accompaniment for window gazing and sleepless nights."
I could not find much info about Tokyo-based Sachi Kobayashi, but according to the Serein label "she is no stranger to the world of electronic music". This, however, is her first 'ambient music' release, and it is a collection of tracks that bring back memories of the 'classic ambient' music of the '90s.
Or, as Serein itself put it: "a deep and dreamy offering that hearkens back to ambient music's golden years (if you're old enough to remember them)."
---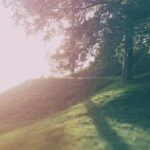 Only one month after her Serein release there's a second album by Sachi Kobayashi on Andrew Klimek's Stereoscenic Records.

After "window gazing and sleepless nights" comes "waiting for light and wind. Eventually, the light comes, the wind blows, and the wind chimes begin to sound."
Thematically (and musically) this album has the same intention and mood as Mood and Sea; both albums match together as if it was a double album release – although More Than Just A Dream may have a slightly 'softer' sound built from synth patches and stretched vocals.

The 35-minute six-track set is completed with an alternative version of the opener I Love You, and three additional remixes by Andrew J. Klimek, Bryan Hilyard, and Awakened Souls.
Quiet music for quiet moments, with a hint of nostalgia.
---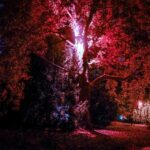 Three out of four tracks on this short EP are based on the audio-visual installation Sonido Blanco that Frieder Nagel created for the 2020 Lost & Found art circuit in Nuremberg, Germany.
The worldwide pandemic raised questions: "What remains of art; how can music be experienced when they are locked behind closed doors?"

In the city park, motion sensors were placed into an old, majestic tree. When people passed by, the tree came to life with sounds and light.
"In intact primeval forests, all measurable frequencies of the audio spectrum are covered by the sounds of birds, insects, or mammals. The more balanced the volumes of the individual frequency bands are in relation to each other, the more relaxing the effect on human hearing."
It's soft music, but also demands attention – it had to make people stop and listen, and take the time "to put the trees' magic into focus, to get passersby out of their comfort zone, to meet again and converse with people from different backgrounds and to spend time outdoors in a year that was meant for staying home."
Para, the third track, is not from the Sonido Blanco installation: it is a live recording performed by Frieder Nagel with the Deutsches Symphonie Orchester Berlin.

The 16-minute EP is released as a digital download only.