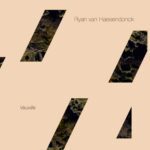 RYAN VAN HAESENDONCK – VAUVILLE
As you may have guessed from his name, Ryan van Haesendonck is a composer from Belgium – Brussels to be exact. He previously created music for films, documentaries, and dance theatre, but Vauville is his debut album.
Vauville (nót 'VauDEville') is the name of a place in Normandy, France, where van Haesendonck found the inspiration for this album "on the quiet beaches listening to the sounds of the waves, the wind, and the natural sounds." The field recordings from that area are combined with those from 'hectic' Brussels after he moved there from Antwerp.

The field recordings on this album are often taken out of their original context and combined with looped musical fragments to create a somewhat unreal atmosphere. There can be intriguing contradictions, such as a cheering live audience (in Conatus) as a background of a spaced-out dubby soundscape (just imaging an audience like this at a performance like this … quite confusing, isn't it?).
Frenzied saxophone loops (Ro. 03, performed by Silke Bull) can suddenly dissolve into the quiet Avondkout (Evening Chat) – and from there the journey continues with new surprises around every corner. The tracks (mastered by Stephan Mathieu) are carefully sequenced and thus can best be listened to in one single session.
Ignoring contemporary 'rules and practices', Van Haesendonck creates his own personal language that transcends the borders of the genre – combining floating atmospheric music with an adventurous outlook on the world around him.
---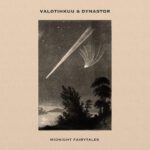 The storytelling begins like every storytelling should, especially those starting at midnight: with a somewhat distorted musical box.
Imagine your storytelling grandfather winding it up, "looks at you with a warms smile and starts reading."
The distortion of the musical box may predict some eerie stories, but the atmosphere in the following (eight) tracks is not scary at all – they are comforting tales of a wondrous non-existent land only your grandfather seemed to know.

I have no idea who exactly Denis 'Valotihkuu' Davydov is (even though he has released quite some music since 2012), and the same is true for Maurits 'Dynastor' Nieuwenhuis. But the fact that their collaboration album is released on Dronarivm, and effectively mastered by Porya Hatami, means you can confidently surrender to their Midnight Fairytales.
Don't be afraid to fall asleep – the Closing Chapter will probably wake you up again.