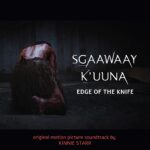 I had never heard about Canadian artist Kinnie Starr before, even though she released her first album way back in 1996. Skipping through her back-catalog reveals various styles of indie hip-hop pop music – so I guess this particular soundtrack album must definitely come as a big surprise for her fans. Or perhaps not, if they knew her history: Starr's earliest compositions were "soundscapes of languages gathered on buses, birds in trees, and trains thudding under bridges".
Edge Of The Knife is the English translation of the original title: Sgaawaay K'uuna. This is from the Haida language – an endangered language spoken in the Haida Gwaii archipelago off the coast of Canada and in remote parts of Alaska. According to Wikipedia, the language has currently only 24 native speakers (!). Sgaaway K'uuna (from 2018) is the first movie exclusively made in the Haida language, thus helping to preserve the language.
Edge Of The Knife is a "supernatural drama about the precarious mental health of the young Adiitsii, who is drawn into madness by the spirit of the forest."
Kinnie Starr's haunting soundtrack score reflects this dark and brooding mood perfectly.
It's not exactly a 'standard' soundtrack: no string arrangements here, and definitely no sentimental orchestral themes. Through minimalist electronic ambient soundscapes and wordless vocals (there's no spoken Haida text in the score), she presents a captivating album that stands firm even without knowing the movie (which I most definitely want to see now!).
Edge Of The Knife can be found on most streaming platforms and can be downloaded from iTunes, Amazon, or from the Aporia Store (scroll down until you reach the Kinni Starr section). There is (currently) no physical edition planned.
KINNIE STARR – RIVERS MOVE FAST
---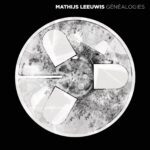 On Généalogies, composer/pedal steel guitar player/sound explorer Mathijs Leeuwis explores how human memory works: "How is it possible that a human being can bundle fragments of memories and stories together into one coherent story?". It is an "ode to imperfection, or better yet: an ode to our failing memory."
His study with composer Anthony Fiumara led to the creation of this album, but before that, he joined a masterclass by Leo Abrahams (guitarist and producer who worked with Brian Eno) to learn "how to create as much impact as possible with as few notes as possible".
Both influences can be found and heard in Généologies – and the partiture of the recording process somewhat reminiscent of that of Eno's tape recording setup on Discreet Music (though Leeuwis' setup is considerably more complex: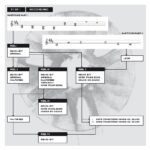 Leeuwis may cherish imperfections, but that does not mean the resulting music sounds imperfect. Quite the opposite: this is an ambient album in true 'classic' sense.
The two parts of Généalogies are both around 13 minutes: the perfect length for a vinyl release. Physical fetishists should note that each vinyl comes in a unique handmade print.
---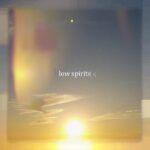 Túrion is the alias of Dutch composer Jaap van Hamond, who recently completed his music & technology study. Low Spirits is his debut album, which he describes as "about four years of personal growth, having the courage to take risks, embracing queer identity, and falling asleep."
The nine tracks are seamlessly mixed so are intended to listen in one complete session. Leap (intro) starts hesitantly but soon blooms into a full cinematic sound that slowly intensifies in Miasma before calming down again.
The music is "sometimes meditative, sometimes oppressive, sometimes something completely different", thus reflecting the four years of 'coming of age'.
For a composer relatively this young (van Hamond is 23 years old now), this music sounds remarkably mature. I was under the impression that this was Túrion's debut release because it was his only entry I found at Discogs. But checking Spotify, it turns out that there was already a 2016 release called Songs Concerning The World Of Old, a collaboration with Charley van Veldhoven called Hemellichaam, as well as quite some single track releases.
I'm sure we will hear a lot more from this artist in the future!