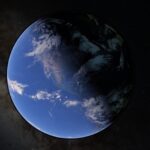 Music For Long Winter Nights
On the longest night of 2019, Dutch radio station Concertzender Nederland presented an 8-hour long uninterrupted ambient music night: a collaboration of radio hosts Roel Janssen, Harrold Roeland, Bob Rusche, and myself. For those that could not stay awake the full night, the full broadcast remained available online (and it still is!).

To celebrate the longest night in this (remarkably dark) year, we decided to repeat this 'Solstice Celebration'. But, for practical purposes, not on the longest night itself but one night earlier since that is the more convenient night from Saturday into Sunday.
This time, too, the full (7-hour) set will remain available online, but here on ambientblog I present my own contribution – the two hours that closed this special ambient night.

When compiling this set, I tried to keep in mind that this was intended to be listened to in the deepest and darkest of the night. But it is not a 'sleep set', due to the variety of moods and atmospheres. It's a celebration of the dark of night that can be enjoyed at any time – every time you're in the mood for a moment (or 2 hours) of unhurried immersiveness.

Don't despair: the days will get longer – and 2021 will get better!

As usual, and of course exclusive to ambientblog, these 2 hours are also available in a DTS-surround version for even more enhanced immersiveness!
PART 1: 05:00-06:00: "EVER FALLING DOWN"

(Note: first time is start time, second time is fragment length)
00:00 4:54 Dr. Jeffrey Thompson – Rings Of Uranus
NASA Voyager I & II Space Probe Recordings, 1992, Brain/Mind Research
02:54 2:28 Geneva Skeen – The Double Bind
Double Bind, 2020, Room40
04:44 3:27 Hannes Kretzer – Juno Had A Sad Dream
Ambient Layers, 2020, 7K! Records
07:41 1:42 Zona – Silent City
Silent City, 2020, Shimmering Moods Records
08:32 4:14 Ana Roxanne – A Study In Vastness
Because of a Flower, 2020, Kranky
12:04 3:04 Simon Scott – Apart F
Apart, 2020, 12K
14:20 1:50 Hildur Gudnadottir, Jóhann Jóhannsson, Rutger Hoedemaekers – The Curse
Trapped (OST), 2019, Milan Records
16:07 3:18 Sam Rosenthal & Projekt Artists – Frail Filament Of Light
Tim, Where Are You Now?, 2020, Projekt
19:19 3:15 Galya Bisengalieva – Kantubek
Aralkum, 2020, One Little Independent Records
22:10 4:19 Max Richter – Murmuration (voiceless mix)
Voices, 2020, Decca
25:57 2:47 Berangere Maximin – A Kind Of Night Ritual
Land Of Waves, 2020, Karl Records
27:24 7:35 Sleep Research Facility – Unrest
From Here To Tranquility Vol. 12 (Horizonte Aeternitatis), 2020, Silent Records
33:41 2:16 Ian Fleming – Approaching A Dead Planet
Necros, 2020, self-released
35:00 2:25 Emil Friis – Home Is Where The Head Is
Songs From The Deep, 2020, self-released
36:51 1:32 Rutger Zuydervelt – Entry Drone
Porcelain (OST), 2020, self-released
38:00 3:09 Mathieu Karsenti – Time To Go
Bygones, 2020, Slowcraft Records
40:42 3:08 Tapani Rinne – Polar
Foghornia, 2020, Signature Dark
43:15 2:26 Angad Berar – Shh.. Tele's Zzz
A Broadcast, Underwater, 2020, self-released
44:41 3:04 Sjunde Inseglet – Satariel (Instrumental)
De Kliffotiska Ritualpoemen (Extended Instrumentals), 2020, Dragon Rouge
46:47 2:31 Echoflex – B Phrygian
Piano Net, 2020, SeeHear
48:26 3:01 Halvknaegten – Stumme Byger
Imens Vi Stadig Findes, 2020, Fusem
50:00 2:38 Kamila Govorcin – Animas
Anima, 2020, Clang
51:53 1:56 Alphaxone, Protou, Onasander – Dusk Wings
Shadows Of Forgotten Legends, 2020, Cryochamber
53:09 2:50 Snorri Hallgrímsson – Ekkert Hefur Gerst Nem Detta
Landbrot I, 2020, Moderna Records
54:57 4:59 Dr Jeffrey Thompson – Saturn's Rings
NASA Voyager I & II Space Probe Recordings, 1992, Brain/Mind Research
PART 2: 06:00 – 07:00: "IMPRESSIONS FROM ANOTHER TIME"

59:21 7:17 Joachim Spieth – Sparsha
Ousia, 2020, Affin Records (rel 01-2021)
1:06:12 3:24 Daina Dieva – Liūtis Remias Siena Į Virpantį Vandenį (Shortmix)
Note Lithuania, 2019, Music Information Centre Lithuania
1:08:27 4:05 Monolake – Phaenon Ono
Archaeopteryx, 2020, Imbalance Computer Music
1:11:51 2:09 Mary Jane Leach – Dowland's Tears (For Solo Flute And Nine Accompanying Flutes)
(F)Lute Songs, 2018, Modern Love
1:13:47 3:12 Fovea Hex – Trisamma
The Salt Garden III, 2019, Headphone Dust/Die Stadt
1:16:40 1:21 Biosphere – Bjorvika
The Senja Recordings, 2019, Biophon Records
1:16:55 2:12 Reinier van Houdt – Midnight Rohrschach
Igitur Carbon Copies, 2018, Hallow Ground
1:18:02 3:28 Max Richter – Space 25 (Epicardium)
Sleep, 2015, Deutsche Grammophon
1:19:24 3:05 Max Richter – Space 2 (Slow Waves)
Sleep, 2015, Deutsche Grammophon
1:21:21 6:48 Max Richter – Path 17 (Before The Ending Of Daylight)
Sleep, 2015, Deutsche Grammophon
1:26:04 3:34 Don Hill – Chinook Winds On Sleeping Buffalo
Sonic Journeys [Vol. 1], 2010, Music Is Medicine
1:28:08 4:42 Stars Of The Lid – Even If You're Awake (Deuxième)
And Their Refinement Of The Decline, 2007, Kranky
1:31:26 4:49 Joost van Duppen – Suomenlinna
Kaamos, 2019, Self-released
1:34:44 3:42 Jackson Greenberg – First Light
First Light, 2020, Ravello Records
1:37:33 2:28 Joshua van Tassel – Eternal Turtle
Dance Music volume II: More Songs for Slow Motion, 2020, Backward Music
1:39:26 2:22 Toto Tobass – Zwischen Flüsternden Wassergeistern
Communal Music Vol. 5, 2020, AEMC
1:41:14 2:06 Coen Oscar Polack – Een Diepnoodlottig Neergelaten Wenkbrauw
Haarlemmerhout, 2020, Moving Furniture Records
1:42:02 2:59 Andrew Sherwell – Balcony Views 3AM
Home Diaries 004, 2020, Whitelabrecs
1:44:11 2:10 Kemper Norton – Halan 2
Brunton Calciner, 2019, Self-Released
1:46:04 2:49 Library Tapes – It Wasn't Always Like This
The Quiet City, 2020, 1631 Recordings
1:48:26 2:19 Cousin Silas – Empty Coastline
Adrift Off The Islets Of Langerhans, 2010, self-released
1:50:21 4:59 Dronny Darko – Rotten Orchestra
Spira Igneus, 2016, Cryo Chamber
1:54:48 2:32 Alva Noto & Ryuichi Sakamoto – By This River
Summvs, 2011, Raster-Noton
1:57:13 2:04 Brian Eno – By This River
Before & After Science, 1977, Polydor / Virgin EMI
Download Winter Solstice 2 Now 273Mb (01:59:16 min.)
[Alternative download from Archive.org]
[Surround-version (DTS.wav or *.wma) here]

OR: Listen on Mixcloud, Spotify or iTunes:



[total: 1,286 - today: 1]