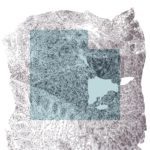 With his digital-only Slowcraft sublabel Lifelines, James Murray releases a steady flow of beautiful releases by "world class genre-defying artists". Each release is paired with artwork created by June Murray, making the series' output consistent and easily recognizable.
For this release, Stijn Hüwels (Belgium) teams up with Dominik 'An Moku' Grenzler (Switzerland) to create an album representing "friendship, hope, and a steadfast spirit through unusual times".
The (29-minute) track is indeed a pleasurable and comforting experience of "carefully weighted melodic gestures and micro-textured sound design (that) merge effortlessly with long-form, widescreen ambient drone."
A welcome diversion from this rather 'unusual' year.
---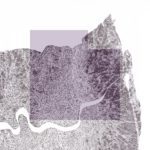 MATHIEU KARSENTI – BYGONES
Earlier this year (in June, to be exact) Mathieu Karsenti's Downstream Blue was his debut on Slowcraft's digital only Lifelines series. To be followed only a few months later by this new album Bygones.
'Debut for the label' is not the same as 'debut release': Karsenti has previously self-released a few albums with his music, but has also created quite some works for Film and TV productions, some of which earned him awards like Best Short Film Music (2016) and Best Original Score (2017). On Bygones, it's easy to hear why.
Moving on to a new location, Karsenti dedicates each of the eight compositions to "a moment, encounter, love or loss experienced during his time in one of the most diverse, richly textured and complex human environments on earth" (read: London).

I'd imagine that living in such a complex environment is more hectic in real life than these beautiful contemporary classical compositions suggest. Unhurried, peaceful, widescreen cinematic … simply complete.

Apart from the instruments, programming, and production that Karsenti adds himself, the sound is completed by Violeta Vicci adding violin and viola.