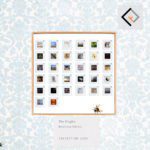 The "exploratory electronic music" label Audiobulb reaches its 100th release since starting in 2003 with a compilation called Exhibition #1 and #2. Since then, they have become a label worth following – not only for their music releases but also for some of their side-activities such as releasing software and VST plugins to create music with, such as Lissajous and Ambient (v4) And let's not forget side projects like Endless Endless and Root of Sine.
To celebrate their 100th release, Audiobulb releases no less than 34 singles, one for every day between September 1 and October 4. The singles will be released separately on Spotify, iTunes, and other digital platforms, but completists need not panic: the entire collection is also available as a compilation from Bandcamp, with individual artwork for each track included: each artist chose an image to represent their own track.
There are many familiar names in the list (Distant Fires Burning, Darren McClure, Monty Adkins, Clem Leek, Autistici, Good Weather For An Airstrike, Wil Bolton, Offthesky, Porya Hatami, just to name a few), but that leaves enough room for many new artist names to discover.

With a selection like this I cannot even begin to describe the music that is included in this selection. The (3 hr 25 min!) collection is a fascinating overview of everything that Audiobulb represents musically: electronic, ambient, microsound, electro-acoustic, idm/glitch and modern classical. And hybrid forms of all those of course.

If you're a fan of streaming music platforms, you're invited to start your search for your favorite 'singles' from this project. But my advice is to make it easy for yourself and simply focus on the Bandcamp compilation edition. Which probably is also more profitable for the Audiobulb label itself, too.