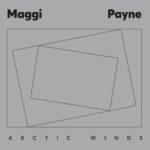 Aquirre Records re-releases Maggi Payne's album from 2010, this time in a 2LP vinyl release (+ download version).
And rightly so, because Payne's incredibly immersive electronics deserve to be heard: it has the capability to transport you to unknown territories.

The sounds on this album are created from different location recordings: "dry ice, space transmissions, BART (Bay Area Rapid Transit) trains and poor plumbing" – but the original sounds are treated beyond recognition to re-create arctic winds. Her stunning spatialization creates an "aural space where multiple perspectives and trajectories coexist."
"With good speakers, some space in your schedule, and a mind-body continuum willing to resonate with Payne's electroacoustic journey, it will take you to places that other music can't reach."
Be sure to keep an extra sweater at hand before you start listening!
Arctic Winds is available in a 2-LP version, as well as a special edition with letterpress artwork (limited to 50 copies). Digital download available from Bandcamp.
---

The cover is an empty, light blue canvas you can stare at and watch patterns starting to move. This is not unlike the effect of this 30-minute single drone piece – at least that's what I thought until I noticed that ALL of the Reese Williams releases on his Bandcamp page have exactly the same empty light-blue covers. Also, all of these releases (except the earlier work) are around 30 minutes long.
I should have known, of course, from this September 2018 post presenting three of his earlier works.
Great Bird Black River was written for an installation, but details of the installation are unspecified. The only information we get is about the construction of the piece: "seven channels with tones drawn from the pentatonic scale C D F G B. And the synths are tuned to 5-Limit Just Intonation."

I tried to find out some more details about 5-limit Just Intonation tuning, but I must admit this is too complex for me to comprehend.
I simply prefer staring at the bright blue square while immersing myself in these soothing waves.