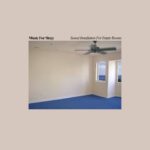 Ever since Brian Eno released his Music For Airports, 'Music for … ' indicates a specific kind of ambient music … let's say the kind that is 'ignorable as it is interesting'. It also indicates the music is created with a specific purpose in mind: there's a (nice sounding) album called Music for Toilets by Pierce Headley, just to name an example.
In this case, Music for Sleep is the alias of Andrea Porcu, a Sardinian musician and record label owner, who has released over 15 albums since 2018 under this alias alone.

Combined with a title like Sound Installation For Empty Rooms there can be no mistake in what to expect. A soothing soundscape, created in yet another reference to Brian Eno's composition techniques:

"Four decaying tape loops of different length running over and over simultaneously for hours in an empty room".

This particular recording is a 32-minute extract of the original 3-hour recording session. Put it on repeat and immerse yourself in the infinite sound of empty rooms.
Or – simply fall asleep and enjoy your dreams.
---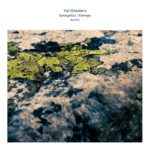 In their accompanying text, Dragon's Eye Recordings calls this 'the return of' Japanese sound artist and composer Yui Onodera. But I personally prefer to say it's a 'return TO' the music of this Tokyo-based artist, because it combines the remastered versions of two previously released recordings.

The first part, Synergetics, consists of two tracks that were originally released in 2007 on German label Drone Records. (Parts of this were included in Bartosz 'Pleq' Dziadosz's Ambientblog Mix from 2011!)

Entropy is a composition in 10 parts that was originally released on Japanese labels in 2005 and 2009, respectively. In fact, this was Onodera's self-released debut album.

So this is, in fact, a renewed introduction to Yui Onodera's early work. But, due to the timeless quality of his music exploring "the relation between musical forms, architectural acoustics and spatial awareness", ánd to its remastered sound, it feels as if it was recently created.