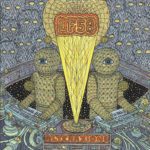 LF58 is short for the live electronic duo Giuseppe Tillieci (aka NEEL, ex-Voices From The Lake) and Filippo Scorcucchi. The scope of their project is described as "far inter-planetary expedition and rigorous philosophical inquiry." They work together since 2015, but (as far as I know) only released one previous album (/12″) in 2017.
Their debut for Astral Industries is a double vinyl set with four movements: one track per side.
It's a sonic trip guided by their complex setup of modular synths: 'a cathedral of sound, each cavernous chamber an exploration of space and consciousness'.

Slowly building their rhythm patterns, this music is pulsating as well as calm, with the modular sequencers a contemporary-sounding version of the 'German School' (Tangerine Dream).
The album finishes with the three-part Evocacione: Contatto: Risveglio (Summon: Contact: Awakening): "uplifting synth motifs drive forward with optimism, before fading back into the great expanse"
---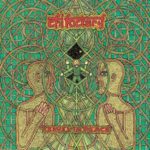 Another sonic trip on Astral Industries, but more focused on the 'fourth world' than on outer space, is the music from Chi Factory, the project which (on this release) is now a solo project of Hanyo van Oosterom.

Travel in Peace is the last tribute to J. (Koos) Derwort, the inspiring Chi Factory member who died early 2019. Derwort left his collection of flutes, guitars, 'strange percussion and weird found objects' in the Chi Factory studio. Hanyo van Oosterom used them to record the basics for this album.
"Playing and recording these handmade bamboo flutes without the master himself being there was a lonely and emotional journey." 

Chi Factory obviously found a welcome home on the Astral Industries label: this is their fifth AI release since 2016. But it will probably be the last under this name: "The circle is now closed. Chi Factory will move on as 'Sons of Chi.'  A new platform for different collabs and new adventures in sound."
---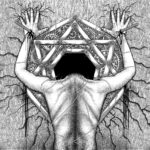 If you're in the mood for some weird psychedelic soundscapes, this Kryptogen Rundfunk release on Zoharum is a good one to start. With a sound that sometimes reminded me of the sonic explorations from Gong (remember them?), Kryptogen Rundfunk is quite an experience.

Kryptogen Rundfunk is a one-man project of M.M. (Artyom Ostapchuk) from St. Petersburg. "Tales From The Mirrored Spaces" is his third full-length album, not counting many collaboration recordings and compilation appearances.
With an array of synth sources, effect treatment devices, shortwave radio noises, and transmission interceptions – but also acoustic instruments (mouth harp, bowed guitar, metal plate, singing bowl, voice), he creates a "dynamic sonic universe varying from ritualistic ambiental textures to heavy electronics, abstract multi-layered drones, and sharp gritty noises."

This is definitely not ambient: most tracks are much too invasive to be called that. Sometimes they get quite noisy (Shores of Insanity, Palus Somni), or have some piercing effects. But they all have a fascinating 'alien' atmosphere.
This could be expected, I guess, since they come from the Mirrored Spaces.
---