It is no real surprise that many ambient/experimental soundscape artists also create soundtracks for movies, installations or performances; their music is fundamentally based on creating atmospheres. The réal surprise is in the fact that mainstream media circuses like Grammy and Oscar (finally) recognize the potential of these artists' creations. The (well-earned!) awards for Hildur Guðnadóttir for her work for Chernobyl and Joker, or the media attention for the scores of Jóhann Jóhannsson, may prove to be just the tip of the iceberg. There are many fascinating examples to be found if you look further than just the 'blockbuster releases'.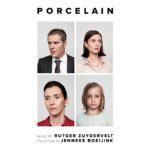 Rutger Zuydervelt, for instance, has quite a few soundtracks in his discography. For video, dance or installations, either under his Machinefabriek alias (for the more experimental/electronic/electroacoustic work) or under his own name (for the more 'composed' works). The video for Dauw, for instance, is nine years old now, but still as heartbreaking as on its first release. More recently, he created the arctic soundscapes for Esther Kokmeijers Stillness I and II.

The soundtrack for Porcelain (his second movie soundtrack), however, feels like a new chapter in Zuydervelt's impressive oeuvre. Because it mixes Zuydervelt's abstract electronics with more 'post-classical' compositions performed by Francesco Guerri on cello. More dramatic highlights come from the incorporation of (choir) samples from Henry Purcell's The Fairy Queen.
Overall, this is a perfect soundtrack for a movie depicting the falling apart of a seemingly happy family. A brooding atmosphere, with an ominous undertone even in the seemingly comforting arrangements.
It 'works' well, even without having seen the movie.

Contrary to a lot of Zuydervelt's music, the pieces here are all relatively short: Last Goodbye being by far the longest with its 3'49". Most of the other tracks only need around 1 to 2 minutes to set the mood. The 'mood sketches' used in the movie are merely 15 minutes in total, but for this album, Zuydervelt added another 20 minutes of (12) outtakes.

Movie scores or soundtracks can be appreciated in different ways, depending on whether you've seen the movie or not. If you have, it's a memory that you'll probably appreciate as much as you appreciated the movie. If you haven't, it's important that the music has enough power to speak for itself – without the context of the story it was written for.
I haven't seen Porcelain (yet), but it's on my watchlist now, simply based on this beautiful score.

---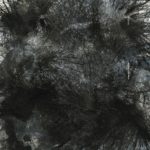 Music For Film is not a score for one particular movie, but a selection of music that Polish composer Michał Jacaszek has created for various soundtrack scores. And – looking at the soundtrack page on his website – there's quite a lot to choose from!

Even though these tracks are selected from various different scores, this is a coherent collection that could also have been a Jacaszek album on its own.
"Context removed, they fuse seamlessly; ten years time between some recordings, erased."
That's because all of the track have a strong Jacaszek signature: the combination of classical (string) arrangements, ambient soundscapes, sonic deterioration, and choral samples is immediately recognizable as his distinctive personal sound.

This means that, for this collection of music, the background story of the films it was created for is hardly relevant to the listener. This is as much a solo album as it is a soundtrack collection.

Music For Film can be enjoyed as an extremely atmospheric "amalgamation of ambient, classical, and musique concrete — deploying field recordings, acoustic samples, poetry, and baroque instrumentation to paint pictures, oftentimes melancholic, nostalgic, tragic."
---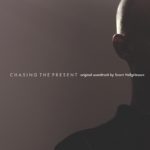 Snorri Hallgrímsson's soundtrack for Mark Waters' documentary Chasing The Present – a documentary "exploring why a person who seemingly has it all can still suffer from debilitating panic attacks" – is perhaps the most 'classical' soundtrack of the three mentioned here. And by that, I mean the kind of soundtracks as we have come to know from composers like Jóhann Jóhannsson or Max Richter.

In a co-production with Ólafur Arnalds, Hallgrímsson uses a minimum of instruments (himself performing piano and electronic programming, Karl James Pestka on violin, viola, and Unnur Jónsdóttir on cello) and effective production techniques ("filtered strings and pianos to emphasize the title character's depression") to create a soundtrack that is a pleasure to listen to – even without reference to the original theme of the documentary.

There is nothing abrasive or experimental in this soundtrack, as you might expect from a documentary about anxiety attacks. Based on the lovely, quiet, and slightly melancholic music I assume that the main protagonist James Sebastiano finally succeeds in his "personal journey to overcome crippling anxiety and found fulfillment."
But I cannot confirm this: I haven't seen the documentary (yet).