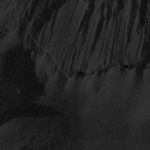 Portuguese trio Haarvöl (Fernando José Pereira, João Faria, Rui Manuel Vieira) have found a fitting home for their releases on Dutch Moving Furniture Records: this is their fifth release on the label (not counting releases on different releases of course).

Ridge Of The Humming Spoils is the third and last chapter in the release trilogy that began with Bombinate and Periperad Debris.
The album title does not give away much about what can be expected musically, nor does the extensive description – except that "at the top of this ridge, we can look back and ahead."
Only in the title of the last track (in parentheses), we read "For Eliane" – and this is perhaps the best way to describe this collection of immersive electronic drones. And also why Moving Furniture Records is such a fitting label for this release.

It seems that Haarvöl completes a phase in their artistic development with this album but is yet unsure about what lies ahead:
"The border, here made up of this ridge of whispering remains/humming spoils, has naturally closed the cycle. That is what borders are for: to interrupt, to limit; ultimately, to try to block. In our case, to be crossed affirmatively – as we well know, there are no walls that can prevent it.
We will continue exploring the sounds that interest us…"

We don't know what lies ahead, but for now this album is a great way to spend the time waiting for whatever the future may bring.
---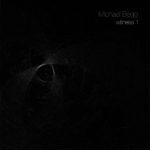 Michael Begg's music is regularly featured on this blog as well as in the DreamScenes editions – either under his own name, or as Human Greed or member of Fovea Hex. Most of this music is more or less ambient-related, but Witness 1 is his first 'true' ambient record.
In fact, it is more ambient than most ambient music.
There are no instruments involved, and there is no 'conscious' composition to create the track. It isn't 'generative' either since it adheres to the same strict rules as the movement of satellites around the earth.
Begg programmed software "to track live satellite data and transform the stream into 'meaningful' musical information."
"Realtime information relating to altitude, latitude, longitude, speed, azimuth, right ascension and declination is transformed, in 8-second intervals, into frequency assignations, filter parameters, and harmonic signals. For this recording, the software focussed on a number of satellites, with an automated trigger shifting between them at approximately 3-minute intervals."

While Witness 1 is the name of the album, the single featured track is called 6 Satellites :: 23 | III | 20 – which is more descriptive of the compositional process for the track that was recorded in one single take.
The result 56-minute soundtrack perfectly fits the 'music that is as interesting as it it ignorable' paradigm.

While all over the world turmoil reigns and no-one knows what the near future may bring, this music reminds us of the undisturbed travel of satellites nearby and of stars further away.
It is, almost literally, 'music of the stars. Undisturbed, calm, predictable, everything well-balanced.
There is a desperately needed 'vague comfort' and peacefulness in this sound.
---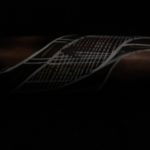 HARROLD ROELAND – E.A.D.
E.A.D. stands for Electronically Altered Didgeridoo. All sounds of this recording were derived from the sound of a didgeridoo, even though there are many sounds that are hardly recognized as such (because the source is electronically altered, of course).
The result is a prolonged soundscape that merges the mystical qualities of the didgeridoo sound with the fascinating extras of electronic enhancements.
The centerpiece of this set is the 55-minute EAD no. 5, initially presented in three parts. The first of these remains closest to the didgeridoo source sound, the second and third part venturing into more electronic realms – including a vocal sample that is "triggered by a spectral footprint of the didgeridoo."
Following this, there are two shorter tracks – EAD no. 2 and EAD no.1 (7 minutes each) – exploring more extreme electronic sound processing. But the overall atmosphere remains calm (and, possibly, somewhat 'dark' for some listeners).
The set closes with a 43-minute remix of EAD no.5, emphasizing different details in the sound spectrum.

With its playing time of almost 2 hours, ánd its beautiful immersive sound, Harrold Roeland's album provides an opportunity to simply surrender to the sound and see where it takes you.