"A vanitas is a symbolic work of art showing the transience of life, the futility of pleasure, and the certainty of death, often contrasting symbols of wealth and symbols of ephemerality and death.
Common vanitas symbols include skulls, which are a reminder of the certainty of death; rotten fruit (decay); bubbles (the brevity of life and suddenness of death); smoke, watches, and hourglasses (the brevity of life); and musical instruments (brevity and the ephemeral nature of life). Fruit, flowers and butterflies can be interpreted in the same way, and a peeled lemon was, like life, attractive to look at but bitter to taste."
Wikipedia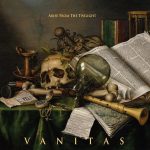 MICHAEL BEGG – VANITAS  
"Michael Begg's music is located in the place where formal composition and electronic erosion meet; a liminal space coloured by longing and discomfort."
You may know this award winning Scottish composer from his work with Human Greed or Fovea Hex. Or from his solo work, such as Titan: A Crane Is A Bridge, the commissioned work that won him the New Music Scotland Award for New Electroacoustic / Sound Art work.
On Vanitas, he plays more acoustic instruments than usual: piano, guitars, bass, but apart from that he built a series of instruments like "sampled wood burning stove, tuned martini glasses, e-bow autoharp, stolen French music box, loose piano string droner, and a blow torch treatment of glass sheets."
The opening track Invocation is a 'sonification' in which he programmed NASA information about a particular lunar eclipse early in the 16th century, which he mapped onto a series of 6 solfeggio frequencies. "I don't necessarily subscribe to the mystical qualities accorded to these frequencies – but there is something undeniably affecting about them." 
"(This recording) is what happens when someone with cheap tools and the ghost of a sound to realise gets out of his studio and into the workshop to make doomed instruments from all the junk in the village. It's what happens when a man with no formal musical education takes it upon himself to score and orchestrate an ensemble. It's where 'I can't do this' meets 'I must do this'."
While this may be true, it's also too modest. It's clear that Michael Begg knows what he's doing and controls the tools he uses. The music he creates with his cheap tools and his doomed junk instruments bears every sign of a brilliantly creative composer… the kind of artist that does not conform to imposed rules but pushes the boundaries into unknown territories to be explored.
---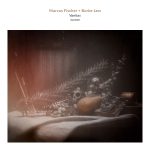 MARCUS FISCHER / BURKE JAM – VANITAS  
Coincidentally (I presume), an album with the same title is released on Dragon's Eye Recording. Same theme, album artwork according to the traditional Vanitas use of symbols – but a different output result (although both albums can perfectly be enjoyed together).
Marcus Fischer and Burke Jam created this collaborative performance ambient series Bloom in both artist's home town Portland. The album presents three tracks: relatively short opener and closer (Cold Open and Detritus), and the 32+ minute title track in-between.
Marcus Fischer's work 'typically centers around memory, geography + the manipulation of physical audio recording mediums'. The music on Vanitas is a great example of the 'slowly unfolding melodies and warm tape saturated drones (that) have become a trademark of his recordings'.
Burke Jam is an artist I was not familiar with until now, although he has released a few albums before. In his work the 'artist, composer, curator and educator' researches 'environmental sounds and methods of listening, the intersection of field recording, composition, sound ecology and the Anthropocene.'

Together, they create a musical landscape that one can easily surrender to – either focusing on the subtle details in the soundscape, or contemplating 'the inevitability of change, the transience of vanity and the ephemerality of human life.'