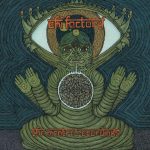 If you are not yet familiar with Chi or its incarnation as Chi Factory, it will take you less than a minute to know which artist is their main source of inspiration. Their music literally breathes Jon Hassell from all its pores – in the wind instrument arrangements (or samples), as well as in its Fourth World Music rhythms and field recordings.
But they add an extra layer to that: an almost psychedelic layer of spirituality – possibly seeking the connection between Fourth World and New Age.
Though relatively unknown, Chi Factory are not exactly newcomers to the scene. Their history started in 1984, as Chi – a multimedia performing group in the forefront of the Dutch ambient/experimental music scene. Michel Banabila was one of the core members at that time, along with Hanyo van Oosterom, Jacobus Derwort, Jurgen Brouwer and Willem Cramer.

As important as their explorations may have been for the development of the Dutch (ambient) music scene, their original music (the self-titled cassette Chi from 1986) remained obscure, known to few, until the Astral Industries label decided it was time to renew attention in 2016 (30 years later, mind you!!).
Since then, more releases with (newly recorded) music of the reformed collective appeared on the same label.
The Mantra Recordings contains four tracks, each exactly 21 minutes in length. The music is dedicated to 'self-exiled hermit' Robert Lax who lived on Patmos, Greece, who Jack Kerouac called 'one of the great original voices of our time, a Pilgrim in search of beautiful innocence.'
In what way his minimalistic poetry influenced this music is known to the makers, and up to the fantasy of the listeners. But one thing is clear: this music is also full of 'beautiful innocence'
---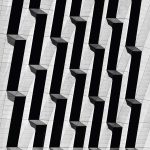 This is clearly nó 'ambient' music, as probably it will make your blood pressure rise in reaction to the pure energy that comes from the two short tracks on this 18 minute 12″.
Everything Ascending, the title track on side 1, starts like a techno-dance track but quickly turns in a complex rhythmic track which style can perhaps best be described as Philip Glass Reborn.
"An undulating, inexorably unfurling odyssey, oscillating seamlessly between passages of
mesmeric electronic pulse, choral-enhanced minimalism and immersive, gamelan-like ambience."
If Philip Glass serves as a reference to that track, then Circling (side 2) can perhaps best be referred to Michael Nyman. Not a big surprise, knowing Snow Palms member Christian Forshaw also is (or was) a member of the Michael Nyman Band.
Other Snow Palms members are David Sheppard (electronics, glockenspiel), Matt Gooderson (synths, tapes, piano) and Megan Gooderson (vocals).
Circling, by the way, is 'a bold orchestral reimagining' of a track from their album Origin and Echo from 2017. Which – in comparision – is quite different in sound!
One could say these two tracks follow all the rules of post-classical minimal music. Compositional principles that were so over-used that they have become boring in some hands. But Snow Palms approach the genre with such an unbridled refreshed energy, that I noticed myself (the easily bored and spoiled person that I am) suddenly sitting more upright while listening to these tracks.