When I started working on this mix, its working title was Wonderlust, simply because I liked that word: a variation on wanderlust ('a desire to travel') which the Urban Dictionary describes as 'the desire to be in a constant state of wonder'.
But as the mix progressed, the title didn't fit very well. There were too many dark and unsettling moments… moment that may evoke their own 'state of wonder' but of a completely different kind.

The Questions in Anja Garbarek's track are crucial to this mix and gave it its title: a few simple questions to diagnose severe psychotic disorders, a delusional state of mind. There may be quite a few of these delusional moments in this mix, but they are alternated with moments of joy in an almost melodramatical equilibrium.

For me, personally, a mix has the most impact when it feels like I'm watching a movie. With ups, downs, some drama, sentiment, moment of joy, climax and anticlimax. And yes: tension and release.
So then, if this was a movie, the Jon Hopkins track would be the last scene, and the Metropole Orchestra (or  Metropool Orkest as they are named in Holland) version of Brian Eno's classic track 'An Ending' would be the track under the end credits rolling.
End credits crediting no less than 45 fragments crammed together in a 59 minute soundscape compilation of music that was never conceived to be heard in a context like this.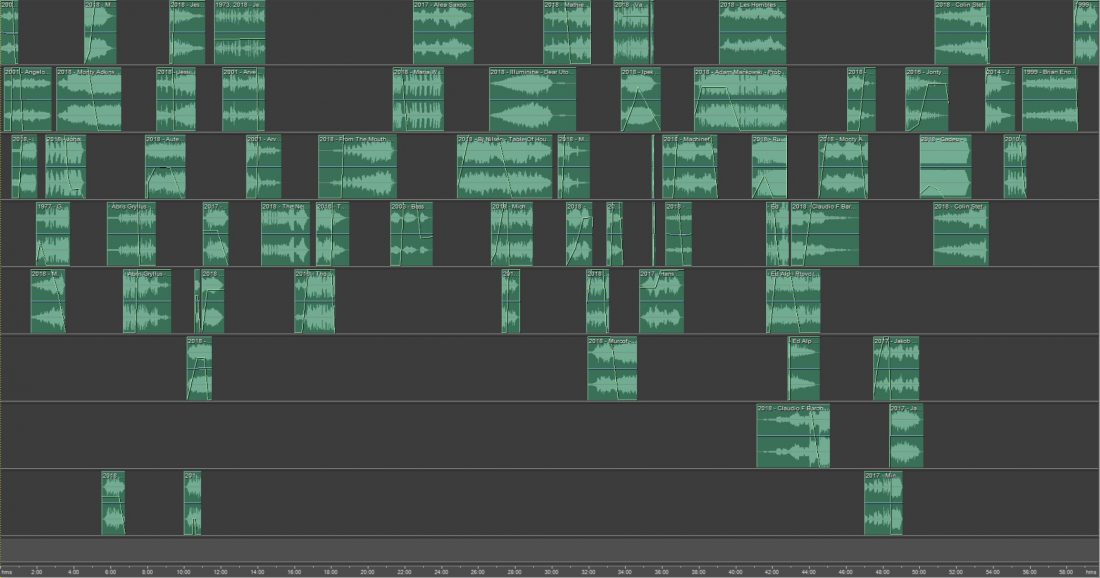 This mix is premiered on Concertzender Nederland in Bob Rusche's 'X-Ray' radio show on Sunday, January 6, 2019. Thanks, Bob! '
Tracklist:
(first time is the start time, time in brackets is the sample length)
00:00 (01:13) Angelo Badalamenti/City Of Prague Orchestra – Mulholland Drive Theme
Mulholland Drive soundtrack, 2001, Milan 74321 89823 2
00:59 (00:59) Allesio Ballerini – Wiwanana
Wiwanana OST, 2018, Fluid Audio 054
01:43 (01:49) Martin Ptak – Storm
River Tales, 2018, Col-Legno WWE 1CD 20441
01:57 (00:32) Goblin – Suspiria (Celesta & Bells)
Suspiria OST, 1977/2012, Cinevox CD OST 702/s
02:30 (02:04) Jóhann Jóhannsson – Seeker Of The Serpents Eye
Mandy OST, 2018, Invada LSINV203CD
03:11 (02:57) Monty Adkins – Still Juniper Snow: Distant Waters
Bozzini+, 2018, Huddersfield Contemporary Records HCR19CD
05:38 (01:08) Anja Garbarek – Questions
The Road Is Just A Surface, 2018, Drabant Music, DM58LPPER
05:52 (03:17) Gryllus Ábris – Post_02
Post_, 2017, Farbwechsel FARB026
08:01 (01:51) Autechre – Sinstrailab Air
NTS Sessions 2, 2018, Warp Records WARPCD364
08:30 (02:31) Jessica Moss – Fractals (Truth 3)
Entanglement, 2018, Constellation CST138
10:09 (01:58) Rudolf Eb.er – Ishikiri
Om Kult: Ritual Practice Of Conscious Dying- Vol. II, 2018, Om Kult OM-2
10:27 (00:25) Anja Garbarek – Questions
The Road Is Just A Surface, 2018,
11:05 (01:17) Ulnar – Daylight Fireworks
Dreaming Of Sailing Further West, 2017, Colectivo Casa Amarela CCA003
11:41 (02:42) Jean C. Roche – Rancho Grande
Birds Of Venezuela, 1973/2018, Sub Rosa SR411LP
12:05 (03:08) Arve Henriksen – Sanmyaku
Sakuteiki, 2001, Rune Grammofon RCD2021
14:12 (02:34) The Newton Brothers – Feel Nothing
The Haunting Of Hill House OST, 2018, Wax Work Records
16:23 (02:22) Thomas Vaquié – Ecume
Ecume, 2016, Antivj Recordings
18:31 (02:56) From The Mouth Of The Sun & Seabuckthorn – Lesser Still
We Stayed The Path That Fell To Shadow, 2018, Lost Tribe Sound
21:21 (00:43) Maria W. Horn – Atropa
Kontrapoetik, 2018, XKatedral XK12
21:44 (01:35) Bass Communion – Drugged IV
Reconstructions And Recycling (Bass Communion Remixed), 2003, Headphone Dust BCCD5
22:30 (03:07) Alea Saxophone Quartet – Arvo Pärt: Solfeggio
Arvo Pärt Anima, 2017, Col-Legno WWE 1CD 20437
24:52 (02:57) BJNilsen – Table Of Hours
Focus Intensity Power, 2017, Moving Furniture Records MFR062
26:40 (04:06) Illuminine – Dear, Utopia (feat. Adam Bryanbaum Wiltzie)
#3, 2018, Ferryhouse Productions FHP 42617
26:42 (01:27) Michael Fahres – Het Gesloten Ogenblik
Gäbrik (music from the book by Marc Legendre), 2018, Vlaamse Onafhankelijke Stripgilde
29:33 (02:20) Mathieu St. Pierre – 23.0785729, 143.9554413
These Elephants, 2018, Se;f-released (Bandcamp)
30:46 (01:22) Janek Schaefer – To Row Against The Tide
What Light There Is Tells Us Nothing (For Robert Wyatt), 2018, Temporary Residence Limited TRR305
31:53 (01:05) Mothertape – Problem 4
In Progress Vol. III, 2018, Centrum Sztuki Współczesnej "Łaźnia"
31:57 (01:54) Murcof – Chapitre VI
Lost In Time, 2018, Glacial Movements Records GMO35
33:22 (02:16) Varg, Annamelina – Stonewall Poem
Nordic Flora Series Pt. 5 – Crush, 2018, Posh Isolation 209
33:52 (02:03) Ipek Gorgun – Mileva
Ecce Homo, 2018, Touch TO:106
34:45 (02:16) Hans Zimmer & Benjamin Wallfisch – Rain
Blade Runner 2049 OST, 2017, Epic 19075800852
36:11 (02:47) Machinefabriek – Hanging
Engel, 2018, Self-Released (Bandcamp)
37:44 (02:30) Adam Mankowski – Próba
Dźwięki Z Offu, 2018, Attenuation Circuit ACU 1013
39:06 (03:35) Les Horribles Travailleurs – Keizersrande 4 (ft. Anja Kreysing)
Off Track, 2018, Esc.Rec 62
40:53 (01:06) Rudolf Eb.Er – Licht (Unborn Light)
Om Kult: Ritual Practices Of Conscious Dying – Vol. 1, 2018, Om Kult OM-1
41:32 (04:47) Claudio F. Baroni – Solo VIII-Air
Motum, 2018, Unsounds 61U
41:40 (02:41) Ed Alp – RTPVC
unreleased, 2009, private collection
44:31 (03:00) Monty Adkins – Still Juniper Snow: Spiral Paths
Bozzini+, 2018, Huddersfield Contemporary Records HCR19CD
47:02 (01:23) Minco Eggersman – Melisma & Gurian
Kavkasia, 2017, Volkoren 73
47:30 (02:32) Jacob Lindhagen – Kenopsia
Paces, 2017, 1631 Recordings FR1-015
49:14 (02:05) Jonty Harrison – Going Places (2015)
Voyages, 2016, Empreintes DIGITALes IMED 16139
50:01 (01:18) Cadeu – Echoic VIII
Echoic, 2018, Esc.Rec 60
50:50 (02:50) Colin Stetson – Mothers & Daughters
Hereditary OST, 2018, Milan M2-36952
53:35 (01:33) Jóhann Jóhannsson & BJ Nilsen – Carkeys (reversed)
I Am Here OST, 2014, Ash International Ash 11.1
54:36 (01:13) Jon Hopkins – Prologue
Monsters OST, 2010, Double Six DS036D
55:35 (04:07) Brian Eno & Metropole Orchestra – An Ending (arr. Dick Bakker)
Shutov Assembly Live Paradiso, 1999, unreleased
Download Delusional Now 136Mb (59:43 min.)
[Alternative download from Archive.org]
[Surround-version (DTS.Wav or .WMA) here]
[total: 1,153 - today: 1]