Hibernate and Dronarivm combine their forces in  this 26 track (almost 2 hours) charity compilation. 100% Of the profits from this album are donated to War Child, to help 'children and young people to grow up free from fear and violence, to develop to their full potential and contribute to a peaceful future – for themselves and for their communities'.
spotify:album:
This, of course, is a good cause regardless of time and place – but now Yemen needs your support more than any other country.
So no need to hesitate: order your copy of the 2CD version (or the digital download) now! You'll be rewarded with a tasteful choice of tracks by various artists, including The Green Kingdom, Isan, Olan Mill, Birds Of Passage, Øjerum, Giulio Aldinucci, Sven Laux, Anne Garner, Hotel Neon, Aaron Martin, offthesky, Sonmi451, Pausal – and that is just a selection of the artists present here.
This album does not claim to present exclusive/unreleased tracks only, and I'm not sure which tracks may be exclusive. I do recognise some of the works, so possibly you'll find some familiar music too. But with 26 different tracks by different artists, you'll definitely discover some beautiful new music. Which can be a good starting point to check out the artist's other works.
Salaam For Yemen is released only a few days before Christmas, but christmas time should not be the reason to buy. Regardless of the season, the charity cause is you motivation. Yemen needs your/our help.
The music presented on this compilation will probably help in making this an easy decision!
---
From the start of its existence, the concept of Eilean Records was to release 100 titles and then…stop:
"The label is based on a map with 100 points. Each point is associated to a number. Each number to a release."
This means that 2019 will be the last year to see releases from the label that has become legendary over the years for its concept and the quality of music released.
The compilation that closes 2018 has map point 92 and demonstrates the mission of Eilean Records with 17 tracks (73 minutes) from artists that were involved with the label this year.
A limited selection of contributors: Aries Mond, Benjamin Finger, Ben McElroy, Cyril Secq + Sylvain Chauveau, Ian Hawgood, Ljerke – just check the rest on the bancamp page.
The music on this compilation cannot be simply labeled as 'ambient', because over the years Eilean Records has defined its very own 'out of borders' musical style. Otherworldly music that fits the map image of a nonexistent world.
Eilean 92 is released is a special metal box edition. Or, to be honest, it WAS released like that, because that box is sold out already. By now only the digital download remains. But, as always, that doesn't mean you should not check it out anyway.
---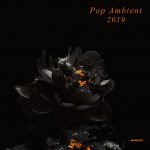 The Kompakt label celebrates its 25th years of existence. And since 2001, there were 19 editions of the yearly Pop Ambient compilations, curated by Wolfgang ('Gas') Voigt.
And yet, for unknown reasons, none of these compilations were featured on Ambientblog – until now.
Kompakt stands for 'a broad-minded, genre-defying entuty that has set out to cross-pollinate all kinds of music inventions within the realm of electronic music'.
The Pop-Ambient series are '100% kickdrum-free' compilations that want to 'add a certain pop-elegance to a sound that was recognized as chillout music that could be heard in seedy techno club back rooms and forgotten festival areas.'
With this mission, these compilation series differs from most other in the 'ambient' genre. Ambient (or ambience) is the common denominator, but there is always a more light-hearted touch: the 'pop' factor.
Pop Ambient 2019 demonstrates the limitation of 'ambient'  as a genre label: it features neo-classic, atonal music as well as 'the most beautiful aural kitsch imaginable'. 
The compilation presents tracks from Morgen Wurde, Gregor Schwellenbach, Max Würden, Thomas Fehlmann, Yui Onodera, as well as some lesser known names (to me) like Thore Pfeiffer, Coupler, The Black Frams, Kenneth James Gibson, Leandro Fresco, Triola, Last Train To Brooklyn. 
The digital download includes 13 full tracks as well as a 73 minute continuous mix. It is also available as a 2LP vinyl, which you might very well choose for the cover alone.