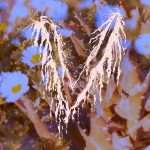 Linus Schrab, from Sweden, one half of the duo Thet Liturgiske Owäsendet, is V I C I M (spaces intended).
Following up a split EP with Forest Management in 2017 this is the first full album under this alias.
The (six) tracks on this album 'are reflections of days spent away from family, friends and everyday life'. Welcome moments of retreat and reflection, and that is precisely what the music breathes too. At least: in the beginning.
The mood is set from the very beginning with the opening track Untitled Universe (with a vocal sample of Phil 'Mt. Eerie' Elverum). But as the album progresses, there are darker moments too (Call For Gold,  Detour). The closing track 33 33 – the first with a distinct rhythm – feels optimistic and satisfied: time to end the seclusion and return to family, friends and everyday life.
---
It's no use to ask who is behind this Jules alias because this is a 'new anonymous project', where the Jules concerned is a fictional character, "a mysterious and fantastic author, called Jules, who will propose to the listeners a dreaming atmosphere and persona far from reality, living in exotic and non-existent spatiotemporal dimensions."

The storytelling comes with explanatory titles to guide your imagination: "Paris, 1870. My First Trip In A Hot Air Balloon" (referring to the use of balloons as 'air mail' to communicate from within a besieged Paris), and "Stories Of Long Journeys In Indochina".
This is Volume 1 of the series, so expect more follow-ups to come in the future (which may be in different styles, however).
Perhaps this explains the somewhat enigmatic remark that "Jules decided to leave the product slightly dirty and unfinished." Why would serious composer want to do so?
The only reason I can think of is that he (or she) was prematurely tempted to embark on a new adventure… To be continued…
---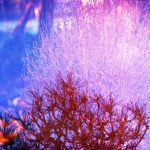 I didn't really know what to expect from "Music for imaginary persons", composed with "self-motivational tape loops" (plus field recordings, effects,  DSI Tetra and OP-1).
But that doesn't matter: the music on Shade Terrarium is self-explanatory enough.
Endurance is Joshua Stefane from Ontario, Canada, but now living in Nara, Japan. A busy, and obviously inspired man, because besides being a bioethics researcher and translator he also writes science-fiction and still finds the time to compose music. Quite a lot too: he has released 17 albums since 2016, four in 2018 alone! But quantity is not what it's about, of course.
Shade Terrarium is a 'classic' ambient album in the sense that there is nothing really 'new' about it, but is does exactly what it needs to do: create a relaxed atmosphere – maybe comparable with a Japanese garden.
I would personally avoid terms like 'spiritual' or 'devotional' to describe this music – too much new-age associations – but those are just words you can ignore.
This music nicely does the job yóu want it to do… and who knows what added effect the (subliminally) added 'self -motivational tape loops' may have!