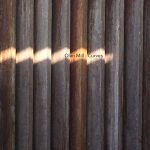 Alex 'Olan Mill' Smalley's new album begins with a track radiating total peace, a most beautiful interplay of bamboo flutes. The opening track is a natural start for this 'journey', since it was 'captured on either side of a trip to Myanmar at the end of 2016'.
Curves marks a period of important transitions: 'as I prepared to become a father and relocate to Germany.'
Judged by the nature of the music on this album, these important life events did not harass Smalley too much: te rest of the album continues the pleasant peaceful feeling and this is a pleasure to immerse yourself in. The 'exotic' elements like in the first track move more to the background as the album progresses, but the combination of field recordings ('from my home and various work environment') with processed guitar, synthesizers and voice manages to hold the atmosphere. At the same time, there's enough happening to reward active listening, too.
Olan Mill, again, managed to 'create a time-capsule of locations and experiences.'
---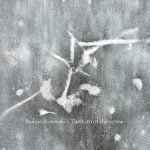 On the same label (Shimmering Moods) comes The Turn Of The Screw by Boban Ristevski. I don't know anything about him, except that he's from Macedonia and that this is his second (?) release under his own name (but I don't know about any previous aliases either), following up 2017's In Search Of The Miraculous – of which I assume that only very few people know about.
That previous album was inspired by the Russian esoteric P.D. Ouspensky's book 'In Search Of The Miraculous'. This new album directly refers to the horror novella by Henry James, so it's no surprise that the album opens with a track called Practical Magical Evocation.
The album is 'intended to be or sound magical'. And it does. Or maybe even is…
Compared to Olan Mill, Ristevski's sound is more electronic (less organic-sounding), but he weaves the same atmosphere – a place you want to linger in for a while but that has a somewhat otherworldy atmosphere too.
Most of the tracks are relatively short, with the exception of the second track One (with a beautiful sound effect like raindrops falling on a tin can) that takes up one third of the relatively short album (just under 30 minutes..because it's based on a novella I assume).