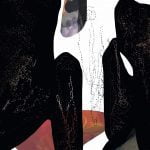 KAJSA LINDGREN – WOMB  
Swedish composer and sound artist Kajsa Lindgren presents "a musical narration for abstracted ears and bodies – engulfing a listener in subaquatic sonic environments".
Womb is the perfect title for this collection of sounds that are somehow familiar yet also seem to come from a still unknown outside world. 

The original sound material – recordings of nature and body sounds, interviews and compositions – have been "re-recorded and re-amped underwater in a swimming pool", and were "re-arranged partly by way of the impulse responses of the pool".
While that sounds immensely intriguing to me, I cannot imagine how exactly this works (can you?).
So it's best to I leave that up to the imagination. And thát is not too difficult with this "phonopoetic fiction that conjures its own surreal virtual ecology". 
Kajsa Lindgren has studied electro-acoustic composition in Stockholm; this is her first full length record. Its release was celebrated in a fitting way with an underwater concert, with  the audience swimming and floating in the pool to experience the piece (!).
As a follow-up to this remarkable release there will also be a virtual reality online installation (haven't found a link to that yet but will add it as soon as I find it), as well as a set of remixes of the original material. But that is about what is yet to come. For now, it's best to enjoy what is here and now… enjoy the subaquatic retreat of Womb.
[Edit:]

There's a beautiful
Womb
web installation to be enjoyed at 
https://inanimate.world/
 – headphones recommended!
This site also features much more detailed background information on the project (on the 
About page
).
---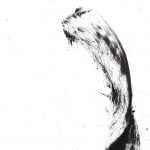 MANJA RISTIC – THE NIGHTFALL 

On The Nightfall, Serbo-Croatian sound artist Manja Ristic presents four compositions, each one representing a year's season and inspired by a seasonal haiku.
The combination of haiku poetry and music – or more generally speaking the intersection of different art forms – is something Naviar Records specialises in, and this album is a perfect example of the power of the combinations.
Summer, for instance, opens with soft "guitar drops in suspended time", illustrating the haiku by Peggy Willis Lyles:

city heat
a boy stirs oily rainbows
with his pocket knife
The other haikus are also written by different haiku poets: Inahata Teiko, Jean-Louis Kérouac and Michael Dylan Welch.
For each track, Manja Ristic chooses a different instrumentation, merging "instrumental improvisation with field recordings and electronics, developing concepts of creative listening", focusing on "the exploration of synesthesia in AV performance, intuitive composition and sound ecology".
She's not afraid of including some confusing elements into the mix (such as the recording of a vocal Toru Takemitsu fragment from 1956) – after all there is beauty in random discoveries.
The Nightfall is released as a cassette (limited edition of 50) and also as a digital download from Naviar.
And there's more good news: for about the price of one LP or CD you will get the full Naviar digital back catalogue, including this one (31 releases!).
Like I said: there's beauty in random discoveries! (However, if that is too much for you, Amazon or iTunes do offer the single album download).