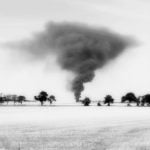 Last year's Paper Streets on the Dronarivm label was probably the first encounter with the music of Sven Laux for many listeners (myself included). But Laux has created music since 2003, and his discography extends to no less than nine albums, more than 25 singles & EP's, and numerous appearances on compilations. So there's a back catalogue to check out!
But before going back in time it's best to stay in the present with this new album Schachmatt ('checkmate') on Whitelabrecs, Harry Towell's limited editions label. ('Limited' meaning: the physical edition has already sold out by now). Here, Sven Laux further explores his ambient paths, with lush orchestral pad arrangements and a widescreen production.
Each track bears the name of a different chess player (Fisher, Spasski, Karpow, etc.): the inspiration for this album came from watching a movie about chess (it remains unknown which movie exactly), where each player had a different strategy. This is reflected in the tracks, "each one playing out along a different path, each with its own characteristics or game plan, if you will".
This does nót mean that the tracks are completely different. On the contrary – they are a perfect match together.
After all, even when high-level chess players have a completely different strategy and follow a different path, in the end they all play within the set of rules of the game called Chess.
The same is true for Laux' music on Schachmatt.

---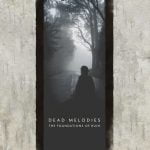 Exactly one year after Legends Of The Wood, Dead Melodies release their second album for the Cryo Chamber label. Or maybe 'his', since it's only one person: Tom Moore from the UK. And it's the second release for Cryo Chamber, but the fourth full length release (in two years).
From Cryo Chamber we've come to expect the darkest of the dark ambient, always with a widely cinematic production.  The Foundations of Ruin opens with a somewhat classical piano piece, but in the second track the music and atmosphere takes a spooky turn. After all, the narrative of this album is that "we are exploring the ghostly ruins of a once stately manor".

"Something definitely feels wrong here, but with hours till dawn and the relentless storm wailing through the surrounding trees, the will to survive the night defeats all reason to fear this shady forgotten sanctuary."
With its ghostly piano hidden in thick layers of fog, this music is as chilling as a captivating ghost story or a frightening game soundtrack. You do not need much imagination to almost notice the temperature drop a few degrees and to "feel a familiar chill running down your spine."