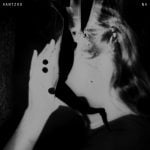 CHRISTINA VANTZOU – NO. 4  

No. 4 continues Christina Vantzou's exploration of 'ambient classical minimalism' that started in 2011. Three years have passed since the release of No. 3, taking her time to determine the direction she wanted to take with this album: 'focusing particular attention on the effects of the recordings on the body, and of "directing sound perception into an inner space"'.
Working with artists like Steve Hauschildt, John Also Bennett, Clarice Jensen (among others), Vantzou does not simply act as the center-stage composer and performer, but channels her ideas into a process of 'prepared sponteneity': "having plenty of ideas ready to explore going into the session, but with enough time to depart from those ideas and see what happens."
It definitely must take self-assurance to be able to loosen control and let other musicians (and technicians) add or delete elements in the end result, which becomes more of a collaborative effort than a personal solo album.
Still, No. 4 bears all the marks of Christina Vantzou's signature: 'a fragile synthesis of contemplative drift, heady silences, and muted dissonance.' At the same time it is not simply a continuation of the previous No. 1, 2 and 3. It's as if the music drifts deeper and deeper into the subconscious, slowly becoming more and more 'immersive and immaterial', gradually 'loosening time' until nothing else exists but 'hushed drones and delicate gestures eliding in the periphery of the mix'.
Like with her previous releases, there will probably be a No. 4 Remixes in the (near) future. Definitely a pleasure to look forward to, but no need to anticipate this too much: for now we can simply enjoy what is here and what is now.
For now, No. 4 deserves our undivided attention.
---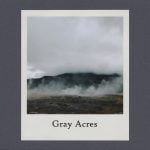 Gray Acres is the self-titled debut album of the new musical project of Andrew and Michael Tasselmeyer – also known as core members of Hotel Neon and The Sound Of Rescue. With this new project, they seek "beauty and stillness", which results in a sound that is even softer and more dreamlike than their work as Hotel Neon.
Layering "emotional textures of immersive drones, walls of effected guitar swells, subtle piano and field recordings", their album is a textbook example of 'contemporary' ambient music: it's a pleasure to drift away in its beautiful landscapes, while at the same time there's enough happening for dedicated listening.
Or, to quote the Godfather of Ambient music Brian Eno: "as ignorable as it is interesting".
The CD-version comes in two different editions: the deluxe edition includes three extra tracks that are not on the standard CD edition and in the digital download.