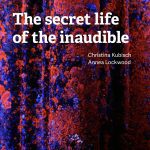 ANNEA LOCKWOOD & CHRISTINA KUBISCH – THE SECRET LIFE OF THE INAUDIBLE
Gruenrekorder is a German label "promoting soundworks and phonography. Phonography considers nature/the environment as an acoustic experience, loaden with musical sounds".
I don't think a more fitting label could be found for the release of The Secret Life Of The Inaudible, the double CD set by Annea Lockwood and Christina Kubisch. The recordings can be categorized as 'field recordings' but it's not as easy as going 'into the field' and 'press record' (most good field recordings aren't, by the way). And both these artists have been around since the beginning of these kind of sonic explorations (Annea Lockwood was born in 1939, Christina Kubisch  in 1948). Both are legends in their own fields, the true first generation of sound artists.
The pieces on this album are soundscapes created using these recordings of the (usually) inaudible. Lockwood and Kubisch "decided to exchange sound materials and left it open to the other what to choose and how to mix it into a new composition".
"Annea's sound material was coming from sonic ultra and infra ranges and was speeded up or shifted down in order to become audible, my [Christina's] recordings are analog and were made directly on site in different cities. The sounds we use are all strange and powerful and they go together as if they were especially made for this collaboration."

For the listener, the soundscapes open up a completely new world. A world you didn't know you were part of, and sounds that you normally would never be able to hear. As an example, Wild Energy begins with a recording made by the SOHO spacecraft: 40 days of solar oscillations (acoustical pressure waves) sped up 42.000 times, and ends with ultrasound recorded from the interior of a Scots pine tree.
Other sound sources include volcano tremors and gas vents, earthquakes, VLF chorus waves and whistlers, bat sounds, etc (Annea Lockwood's input) kinds of electromagnetic waves (subway station, server room, power station, shopping centers in various cities, seismic research centers,  the countryside during a thunderstorm after electricity had broken down, etc (Christina Kubisch's specialism).
The result is a fantastic journey into uncharted aural territories.  Hearing the sound of all these frequencies also raises the question what effects they might cause on the environment, and on ourselves:
"Until now what kind of influence the sources of these normally hidden waves have on us is not much explored. It is up to the listener to find out more about it."
ANNEA LOCKWOOD – WILD ENERGY (with BOB BIELECKI) (excerpt)
CHRISTINA KUBISCH – BELOW BEHIND ABOVE (excerpt)
---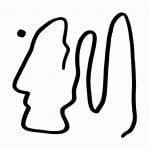 CHRISTINA VANTZOU & JOHN ALSO BENNETT (CV & JAB) – ZIN TAYLOR'S THOUGHTS OF A DOT AS IT TRAVELS A SURFACE 

Christina Vantzou's new album No. 4 has just been released (more on that later this week), but this collaboration with John Also Bennett is very well worth checking out also.
The ten tracks on the album were created from material that was recorded on occasion of the completion of one of the black and white wall drawings by Zin Taylor.
Each track corresponds to a specific section of the "particularly ambitious 90-meter panoramic wall drawing", but the tracks are seamlessly sequenced to form one single 42 minute composition in 10 parts. Each of these parts has a somewhat different atmosphere and energy, "rarely lingering too long in a fixed formation, like Taylor's nuanced mini-murals", yet the album is strikingly coherent.
There's a beautiful interplay of the synthesized sounds versus the more naturalistic – the sounds may come from different sources but behave like friends, not counterparts.
The music is "played with an air of otherworldly detachment, as though such beauty was materializing purely of its own accord." The resulting album demonstrates how engaging electro-acoustical music can be.